Saman Jayasinghe – Rugby's unsung hero
By Shamseer Jaleel
View(s):
Former Royal College, CH&FC and Sri Lanka player Saman Jayasinghe remains a hero who is not talked about in the present times. Saman, who played for Royal at rugby from 1974 to 1976 was an excellent team man.
In the initial year he was under Brumoon Akbar (1974) the second year under Ifthikar Hassen (1975) and the last year his captain was Manik Veerakumar. Saman Jayasinghe's 1976 Royalists created a record in scores of 36-0 and 28-6 in the Bradby Shield encounter. In the same year Royal's highest score against Wesley, Vidyartha and Isipathana still remains as a record.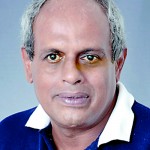 Soon after leaving school Saman represented the Gymkhana Club (CH&FC). He played for the CH&FC from 1976 to 1988, leading the side in 1980. CH&FC won the domestic Sevens Championship that year and ended as the runners-up in the Clifford Cup Knockout Rugby tournament. He represented Sri Lanka from 1978 to 84 leading the President XV in 1981. His captains at CH&FC were Rodney Patternott (1976) and famous referee cum coach Tony Amit (1977).
Jayasinghe led the Colombo Clubs and Low Country Rugby in 1982. Under Saman's leadership they won the Capper Cup in 1982. He represented Sri Lanka in the shorter version of the game for five years (1980-1984). Probably the unforgettable moment came when he represented Sri Lanka as the Bowl winning team at the Hong Kong Sevens in 1984. This is the only trophy Sri Lanka was able to win at world level though 30 years have gone by without even being noticed. In 1982 Saman led the Sri Lanka Sevens team.
At Asiad level, Saman represented three Asiads leading the side in his last year in 1982. Saman, for his excellent work in the field of rugby football was awarded with the Honorary Membership at the Sri Lanka Rugby Football Union in 2014. Besides his accolades at Rugby Saman also became the first ever National Squash Novices Champion, in 1981.
Speaking to the Sunday Times Saman Jayasinghe said "We played with lot of passion and representing the country was everything for us. Further team work and we did not have any club differences when it came to national representation, whoever captains or plays we gave 200%. "Now the world has changed lot of funds are being put into Rugby and the players are looked after very well at club level. Their fitness level and nutrition and even all the leading clubs have physical trainers and everything is monitored centrally.
"Currently, some of the players are more loyal towards their clubs as opposed to their country and this is something, which I believe, should change. We need to move forward in Asia. Take 15s; still we are at fourth or fifth in Asia. If we are to re-group and look after our youth players at Under-20 level we can move towards number two within a couple of years or so."
Saman continued by saying players will need some rest as well without playing continuously for 12 months. "They should have a break for at least a minimum of three months. At Sevens we have moved forward to rank third in Asia. That is good. But when one compares our team at World stage events, we are far behind. Even at Sevens you need the size as you need to tackle some bigger opponents. We need to keep Rugby moving. A must is the continuity of the Under-24 rugby calendar which will be a very good feeder for the senior team."
He mentioned that the best moment in his playing days were under Hisham Abdeen at the Hong Kong Sevens in 1984. He ended by saying "I most generously request the current and the future players of Sri Lankan rugby to 'up' their game further and play a fine brand of rugby in order to race Sri Lanka by bringing home an international trophy like we did back in 1984, three decades ago."