The missing Chief Guest
View(s):

The event was a sport meet at a girl's school in Panadura. The officials wanted to invite a VIP for the event and they approached the person concerned, who is popularly known as 'Ratharan Malli.' The VIP readily agreed and said that he should be treated with all the eatables that he likes most. The school authorities went out of their way to please him and ordered all that the VIP wanted. On the agreed day with the school band in attendance and everybody dressed in their Sunday best, waited for the VIP who never turned up. They waited and waited, all in vain for the chief guest in vain.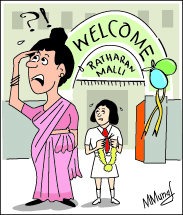 SEEING RED
With the introduction of paying players who indulge playing with the oval ball most of the teams have done well this season. The added flavour has been the foreign set of players who too have been lured to the island to fatten their pockets. A lot of fan fare was made when a certain fast food establishment came forward to boost a certain team. All went off well with almost all concerned with the side smacking their lips. But every effort has its ups and downs especially when the payments are not made on time. Practically the whole team refused to take the field because of this and the side had been a dejected lot. It is no wonder that the outfit did not fare well this season!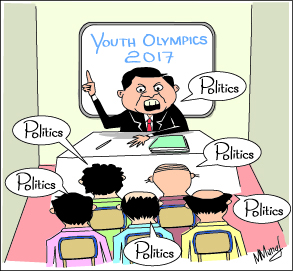 NOT FIT
Again we shift to the sport of the oval ball. This time two officials had been recommended to attend a referee's examination. Somehow or the other they managed to dodge this examination on the pretext that they are not fit for the occasion. It is a wonder how they had managed to 'blow' at the assignments they were given during the season.
SPORTS
FORGOTTEN
The country is slowly but gradually gearing to stage the Youth Olympics in 2017. The first was held in Singapore in 2010 and the next one was held in China. Sri Lanka is making every effort to surpass the previous events. A meeting took place recently to discuss the Youth Olympics. However the meeting turned out to be a political affair with the discussions revolving around the forthcoming provincial elections. Sports took a back seat at the meeting.