Ion Tiriac's tennis dimension
Hall-of-fame, lifetime achievement
View(s):
Certain eras in history, one would see strong personalities coming 'out of the blues' to make an impact. In the sixties a simple man from Brasov, Romania appeared in Tennis. Ion Tiriac was first noticed as an ice Hockey player in the Romania 1964 Olympic team. He then switched to Tennis, reached the top 50 in singles, won the doubles titles of Paris and Rome with Ille Nastase and was a member of the Romanian Davis cup team for over ten years. Later he developed some of the legends in Tennis after his competitive career.
Ille Nastase of Romania, Guillermo Vilas of Argentina, Boris Becker of Germany were under his guidance. Tiriac was also a major influence to the Eastern European players. In many ways he is responsible in keeping Eastern European Tennis alive in the post war era. He says Tennis gave him the freedom to travel and see the world, which was not available to 99.9% of the East European citizens.
The Indian Tennis circuit was the winter home of the Tennis world in the 60s. I had the privilege of doing the Indian circuits with Tiriac and many others from Europe. Some in the same vintage who played there went on to win Wimbledon later. Every Indian circuit tournament draw had some Wimbledon players. Tiriac has the personality to make an unforgettable impression on everyone he met. Although he is sociable and charming, his intense face gave him the name 'Count Dracula'. Later when Eastern Europe was still a closed, I have seen him working in Germany as an events promoter. He speaks many European languages.
Sport as an industry
In 2007 Tiriac was named as the 840th richest man in the world by Forbes. In his empire Tennis is a small thing. Although banks and others have a bigger share of it, he is grateful to Tennis for the freedom it gave when needed. It allowed him to travel as a sportsman
out of Eastern Europe in the 60's and 70's. The exposure made him evolve into what he is today. Tiriac has been promoting players, events and others related to Tennis for over four decades. He now also owns a venue in Madrid and conducts the successful 'Madrid open' in Spain. His message to Tennis players and organization is 'change Tennis'. At the age of 74, his opinion counts.
Tiriac sees sport as an industry now. In this industry 'players' are the key elements and 'events' are the attraction. As an old ice hockey player he praises the changes Ice Hockey has gone through, to make the game popular. He does not see such moves in Tennis yet. The 'alphabets of Tennis' to him has no appeal. That is ITF, ATP, WTA, ATF, ETF and other controlling bodies of countries, players and notions. Tiriac is a practical man and for him the 'ground-situation' counts. In many of his interviews in German television he emphasized that his gain was more by hard work on ground situation than talent and luck.
The 'tie-break'- big change
When the 'tie-break' was introduced to shorten the game duration, no one liked it; now we all look forward to it. This came to Tennis from Table Tennis. Before the tie-break a set could go even to 30/28 games. It did, in the longest match played in Wimbledon between Charles Paserell and Puncho Gonzales, both from USA. 41 year old Gonzales won that match. Although rare, this can still happen in Tennis but only in the final set. Remember the semi-finals between Roger Federer of Switzerland and Juan Martin Del Potro of Argentina in the London Olympic semi-finals; they were mega sets. Why tie break? 'Television' is the answer. In Football time duration is set for a match. Tennis does not have that restriction. TV Stations work on time slots and they insisted some change to it. 'Tie-break' was the answer – It worked. Today spectatorship is in the drawing room. Television reaches them. In Tiriac's opinion Tie-Break was a good and a necessary change to popularize Tennis.
'Sudden-death' at deuce in doubles
Most of the tournaments have taken away the advantage after deuce [40 all] in doubles. This change has made the match duration shorter. It also made deuce the 'game-point' and 'break-point'. This situation is unusual in Tennis and it has increased spectator interest. At deuce server is allowed to choose the side of serve. Players told me it was more exciting in many ways. It was expected to appear in singles too, but singles as a spectator event is sensational in sports. So changes are not going to come easily but something's are changing. Argument against change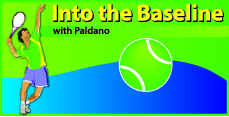 Tennis permits two services. At one stage there were moves to reduce service advantage by permitting only one serve and also to reduce the size of the service court. The reason was returning 140 MPH big serve from a 6 foot 6 player was impossible. They thought changes would reduce the speed of serve.
Common sense prevailed and no changes were made. To start with, it mattered only to the top 150 players of the world. Tennis playing population of the world is in the millions and spectatorship will exceed a billion. Then what happened is most interesting. Players evolved and big serves were returned. Now good players find it a disadvantage to serve very fast. Just check the average speed of service in the match between Nadal and Djokovic in the US Open finals. Average 1st serve speed was 110-112 MPH and the second serve was 89 MPH for both. Today's Tennis is tough due to the strength of the return game of the players than the service game. Players adapt and it is the reason why not to introduce changes. Changes may reduce the challenge and make Tennis unattractive even to play; at least these are the arguments against changes.
Reduction of entries in big events
Ion Tiriac would like to reduce the number of players in major events. At present it is 128 in the main draw. Reason; there are no rest days between matches for good players. Considering the number of events professionals play in a year it seems a good idea. Too many players have given up the game with injuries. We will have to wait and see what happens here.
Elected to the Hall of fame
Looking at the track record, Tiriac will have to be reckoned as a practical realist. He has made a mark as a player, coach and promoter. He is a man of many interests. His annual wild boar hunt event in Romania since 2005 by invitation puts him into the 'who is who' registry of VVIP. It does not stop there; in humanitarian angle he has adopted, educated and taken well over 100 children into adulthood from his home town of Brasov in Romania. He also built an orphanage with his own money. At Tiriac's heart he would want Tennis to prosper. His instincts have proved good and productive. Meanwhile for the services rendered towards Tennis, Ion Tiriac was elected into the Tennis Hall of Fame in 2013.
–<George Paldano, former international player; Accredited Coach of Germany, ITF and USPTR; National, Davis Cup and Federation Cup Coach – georgepaldano@yahoo.com>
comments powered by

Disqus