Cream of junior sports crop to be harvested at schools awards
View(s):

A total of 501 young sportsmen and women are set to receive colours at the 20th Sri Lanka Schools Milo Colours Awards Ceremony, which will be held at the BMICH next Friday.

The much-awaited sports awards ceremony will see the crème de la crème of the junior sports fraternity rewarded for their efforts in respective fields of sport.

A total of 33 school sports governing bodies affiliated to the Sri Lanka Schools Sports Council (SLSSC), the conductors of the event, have entered their respective nominees for Milo colours. According to SLSSC, all 501 young sports stars were selected for their outstanding achievements at national and international competitions.
All colours winners have been picked based on their performances during 2012, with a majority of them being eligible for their feats at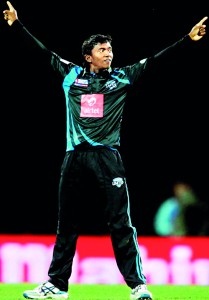 international level according to a SLSSC official.
But the main attraction of the day will be the top 11 names who have been nominated for the main awards under four different categories, which are the Most Outstanding Athlete Boys', the Most Outstanding Girls', the Emerging Boys' Athlete and the Emerging Girls' Athlete.
Overall, swimming has the most number of colours with 75 awards from the whole lot while 55 are set to receive colours in athletics. Badminton and rugby will see 31 each being honoured with colours while cricket (26), karate (23), judo (20), power/weightlifting (19), football (18) and hockey (17) constitute the other sports with a high number of coloursmen. The remaining 186 athletes who are set to receive colours are those who excelled in netball, rowing, table tennis, volleyball, basketball, elle, carrom, gymnastic, wrestling, chess, kabaddi, softball cricket, aerobic gymnastic, wushu, mountaineering, taekwondo, life saving, throwball, cycling, boxing, handball, tennis and squash. The event, which is sponsored by Nestles' energy drink product Milo for the 20 successive occasion, will begin at 2.00pm on Friday at the BMICH in Colombo.
- NA
comments powered by

Disqus