Aadavan holds his own to take Boys title
By David Stephens
Asian Tennis Federation U-14 Week 2
View(s):
Aadavan Pushparaj needed to grind through sweltering heat and some gutsy tennis from Jerique Rajapakse before he could chisel a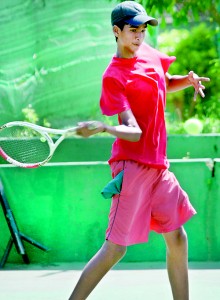 rugged 6-4, 6-2 win, in the boys' finals of the Under 14 Asian Tennis Federation (ATF) tournament's second week, played at the Sri Lanka Tennis Association yesterday.
The deceptively straightforward scoreline does not reveal how competitive the match actually was. In truth Pushparaj had a very burdensome opening set, which Rajapakse could so easily have edged if his serve had not faltered as badly as it did.
However, Pushparaj frequently rocked Rajapakse with some fizzing forehands, and the winners they generated lifted Pushparaj from an early 4-1 hole and sent him racing to 5-4. Although Rajapakse covered the court with fine, fast strides, his serve, both first and second, merely floated harmlessly into play and was constantly belted back at him with venom.
With a series of inspirational and powerful plays from the middle of the court, Pushparaj snatched the opening set and went careening into second. He burst into it with an early break and immediately had Rajapakse, drooped despondently over his racquet, buried in frustration and fatigue. He tried admirably to launch a fightback, but the tall and gangly Pushparaj would not budge.
The accuracy, angles and fury of Pushparaj's ground strokes were, like the day's oppressive heat, rising rapidly and before long Rajapakse was serving to stay in the match. This time he managed to buckle down and attend to business, holding serve and moving into the next game with slightly inflated confidence.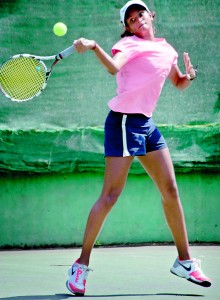 Against the run of play, Rajapakse broke Pushparaj's serve and had an opportunity to hold his own and slowly plug away at the daunting scoreline deficit he faced. Yet again though his service floundered and he soon slipped to 30-40. After an eternity at deuce, Rajapakse swung the ball wildly past the court lines on match point to finally hand Pushparaj the win he had been threatening to conceive through much of the set.
In the girls' final, the favoured Adithya Karunaratne, who had emerged victorious during the tournament's first week, could not find answers to the powerful questions bursting from the racquet of Medira Samarasinghe.
Grunting and slipping, Adithya lacked composure in her game while Samarasinghe dealt deftly with her down both wings to swiftly wrap up the opening set 6-1. She conceded only one more game in the match to Adithya, on her way to roping in a surprisingly straightforward 6-1, 6-1 victory.
comments powered by

Disqus