Jewels under the forest
View(s):

A heritage site and protected area since 2005, the Jathika Namal Uyana woods contain Asia's largest collection of rose quartz

Fifteen kilometres away from the Dambulla town and through the outskirts of Komaliya and Aadiyagala you would come across a dense expanse of thickly wooded jungle, famed for being home to Asia's largest location containing rose quartz.

Nestled right next to the forest is the tiny village of Ulpathagama, where the Jathika Namal Uyana (the official name for this beautiful stretch of woods) offices are located. Run by the Wanawasi Rahula Thera, the Chief Incumbent of the Namal Uyana, the area was discovered by sheer accident in 1991.

The rose quartz mountain is perhaps the most well known attraction of the heritage site, as it is thought to be over 550 million years old. It is said in folklore that rose quartz was mined from the Namal Uyana and taken to India to adorn the Taj Mahal. The forest itself is approximately 2000 acres in extent, with the rose quartz occupying at least 600 acres of this. Interestingly, there is no presence of any common black rock in the entire area.

Namal Uyana is surrounded by the villages of Morothegama, Ulpathagama, Narangaswewa, Ranava, Dambulluhalmalla Wewa. Ranavaya, a village situated to the east of Namal Uyana, is where the historic battle of 'Vijithapura' between King Dutugemunu and Elara took place. Violent battles seem to be a thing very much in the past, as the forest is not only a sanctuary for birds and animals but also a place of mental and physical relaxation and meditation for people from all walks of life.

In fact, Chief Incumbent Ven. Wanawasi Rahula Thera is reported to have received shelter under a huge Moragaha (a distinctive feature of the forest) during his days of meditation. He lived in the harsh, but peaceful conditions of the forest for many weeks.
The forest is also home to a significant number of historical sites, including the ruins of Purana Namal Seya, a Bodhigaraya, Pilimageya, Awasageya and a Seemamalakaya-it is reported that there have been places of worship from around 8 A.D.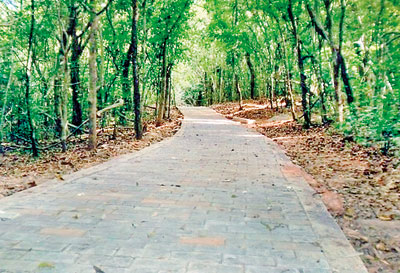 Namal Uyana is also Sri Lanka's largest Na tree forest, with the expanse covering almost 200 acres. It is said that the famous Venerable Mangala-Sumana-Revatha and Venerable Sobitha, Buddhist monks received enlightenment under the Na tree, and as such the tree holds great significance in Buddhist history and worship. The Government declared the sanctuary a protected forest area in 2005.
This 2000 acre Na tree forest has received world acclaim for its beauty and cultural heritage and has been declared a heritage site which has been promoted and nurtured to the public largely due to the untiring efforts of the Ven. Wanawasi Rahula Thera who almost single-handedly looked out for this forest for 22 years.
"The destroying of both trees and wildlife is the beginning of the end for mankind," he says. "To prevent this from happening it is vital to nurture and preserve this treasure for the generations to come."
Follow @timesonlinelk
comments powered by

Disqus