Propelling Lyceumers since 2007
View(s):

Scholarships for USA (Pvt) Ltd (www.scholarshipsforusa.com <http://www.scholarshipsforusa.com> ) who has revolutionized the recruitment of talented and deserving Lankan youth to US universities and colleges during the past decade has published a booklet titled "Propelling Lyceumers Since 2007" to coincide with the 10th Career And Higher Education day (CAHE ' 13) of the Lyceum Group of Schools scheduled to be held from February 11th to 15th at Panadura, Gampaha, Wattala, Nugegoda and Ratnapura and on March 4th at Nuwara Eliya highlighting the success stories of many Lyceumers it has placed in the recent past. SUSA has maintained a close relationship with Lyceum schools over the years helping their stars gain admissions with generous scholarships from many reputed universities and colleges across the US.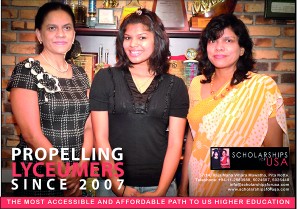 'Changing lives' is how Priyanthi and Dissa see their home grown boutique operation at Pita Kotte. Born with the success of own daughters and carried out with the passionate mission of helping hundreds of students from all corners of the Island (including one from Jaffna and another from Ampara at the height of war) and from all ethnic groups, Priyanthi and Dissa are today enjoying fruits of their labor enjoying many success stories emanating from various parts of the US. Sticking to only one destination – the United State of America – and firmly believing in what the Island's best known freedom fighter late Srimath Anagarika Dharmapala stated over 100 years ago "The American system of education is as near perfection as it is possible for a human system to be" they feel that US could contribute tremendously in molding Lankan into global professional leaders.
Their operation is unique in many ways. Each candidate is selected carefully and assured of admissions with substantial financial aid; each candidate gets a dozen of offers from many universities and colleges across the US in record time; as only the right candidates are selected there's hardly any wonder as to their over 95% visa success rates.
At the US end, the Dissanayakes are considered to be the only Lankans who have visited each one of its partnering schools at least once. They know each admission official by name and face (who immensely appreciate the quality of Lankan students they have placed over years). Each year, their travels in the US have widened bringing more and more hidden gems into their network, increasingly lowering cost of education. It's a little known fact that this couple, single handedly, has brought 11 collaborations between US and SL institutes facilitating 2+2 transfers, student exchanges and joint research – the only entity to do so ever since US-SL diplomatic relations were established.
Ever considerate of one way traffic, the Dissanayake duo are now considering bringing US students to SL on study abroad semesters. When they take summer courses in local institutes it would not only bring much needed foreign exchange but further understanding between the two nations.
They strongly believe that the world is flat and our youth should be given every opportunity to compete with the best in the world and learn in a country which stands at the helm of higher education. They believe that the future of the island nation depend on thousands of professionals holding top positions globally contributing handsomely to state coffers and the island's reputation.
Follow @timesonlinelk
comments powered by

Disqus