Dharmasoka Celebrates Centenary Year in Grand Style
View(s):

By Sujitha Miranda

Dharmasoka College, Ambalangoda is one of the foremost Buddhist schools in Southern Sri Lanka, which has bestowed respectable personalities to the nation such as Ven. Ambalangoda Vajirawansa Thero, the present Commissioner of Elections Mr. Mahinda Deshapriya, top brass in the Defence Services and Police, Professor Upali S. Jayasekera, Former Dean of the Faculty of Agriculture-University of Sabaragamuwa,

Professor Nihal Kodikara, Deputy Director-University of Colombo School of Computing and stalwarts in the field of sports such as Upul Tharanga, Dinesh Chandimal and Niluka Karunaratna, to name but a very few of them.

2013 is a significant year for mother Dharmasoka, which brings the Centenary milestone into her span of life.

Dharmasoka was initiated in 1913 with only 15 students by its founder Mudliar S. Thomas de Silva which revealed his great devotion and dedication. He spent his own riches for the development of the school. Therefore the name of this great person, the founder of this school with a record of over a century in the arena of education is not forgotten by the people.

Today Dhamasoka has a student population of nearly 5000 students and about 180 in the tutorial staff. It has a highly developed and an efficient administrative system. Decentralization is vital for its smooth management. The present Principal Mr.M.G.O.Panditharathne, with the assistance from the Deputy Principal, manages the entire school through a delegation of powers to different sectional heads. It is a base of learning which has done extremely well not only in the academic sphere, but also in all fields of extracurricular activities. Presently it is no wonder that the aspirations of the greater part of parents in Ambalangoda and the suburbs is to see their children securing admission to Dharmasoka College for an outstanding school carrier.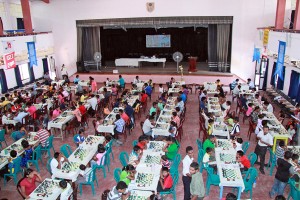 Since this humble beginning, Dharmasoka College has gone from strength to strength and will be reaching an all important milestone when she completes her centenary year this year (2013).
As the school has a proud history in the field of sports, the school administration, OBA and school development committee are joining hands together in organizing a sports festival as the key event of the celebration of the Centenary year. They are planning to conduct competitions in 10 different games – Chess, Badminton, Basketball, Soccer, Cricket, Table tennis, Athletics, Cadetting, Netball and Swimming from February 8 and will continue until February 26, 2013. The Centenary Commemorative Organization is expecting a minimum of 5000 competitors from leading schools all around the country, to participate in the Sports Festival.
This Sports Festival will be held in three different locations in Ambalangoda – Piyasena Children's Park- Polwatta, Ambalangoda Public grounds and their school premises. All the students, teachers, administrators, old boys and the well-wishers will be rendering their maximum support to make this festival a roaring success. With this milestone, Dharmasoka absorbs an unrivalled place among the educational institutions in Sri Lanka forever.
Follow @timesonlinelk
comments powered by

Disqus