Completed your A/L's? ESOFT has a range of IT, Business, and English Courses for you
View(s):

ESOFT is a trusted name in Sri Lanka for providing high quality education focusing on ICT, Business, and English Language skills. This is due in part to the fact that ESOFT builds partnerships with reputed organisations in the education sector in order to provide the best opportunities to Sri Lankan Students. Two notable international partners of ESOFT are Edexcel and the Buckinghamshire New University, both from the UK, along with University of Moratuwa.

Edexcel HND and Top-up Degrees

Students that have just received their A/L results can enter into the Edexcel Higher National Diploma (HND) Programme choosing either the Computing or Business Management fields. This is a modular programme that can be completed in a period of 1 ˝ to 2 years. Thereafter, students can complete their Bachelors Degree via the partnership that ESOFT has with the Buckinghamshire New University. Top-up (final year) degree programmes are available in the form of B.Sc (Hons) in Computing, and B.A. (Hons) in Business & Finance. Even if your child wishes to follow a different stream or wishes to enter into state university, we can offer part time classes on the weekends thereby allowing your child to gain a double qualification which would definitely provide a more solid foundation for the future.

Compared to the option of sending children to overseas universities, this option is several times more economical and it is safer as well as your loved ones stay close to home.

All students registering for Edexcel HND will receive a brand new DELL laptop FREE. Pay the fee in full and take it home, or pay the course fee in installments and own the laptop when the payments are complete. This is given as a study aid to help them in their studies by ensuring that a dedicated computer is available for each and every student.

ESOFT also offers a range of courses and programmes for young kids, school leavers, and professionals. Qualifications range from primary ICT classes for kids to Masters Degrees for those that have already completed their first degree or have suitable working experience.

BIT Degree (University of Colombo)

BIT is a Three Year Academic Degree that is awarded by the University of Colombo School of Computing (UCSC). All examinations are conducted by the UCSC and various training organisations provide the material delivery to prepare the students for the exams.
ESOFT is the #1 Course Provider in Sri Lanka for the BIT External Degree offered by the University of Colombo School of Computing (UCSC) because ESOFT students became the batch top for the last five consecutive years. We also offer incentives to existing local university students by offering them a 50% discount on the course fees when registering for the BIT Degree. Government school teachers will also receive a 25% discount for this degree.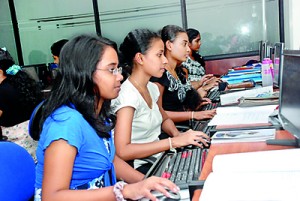 BIT Degree (University of Moratuwa)
This is an external degree offered by the University of Moratuwa and offered in collaboration with ESOFT via our branches at Colombo, Kandy, Kurunegala, Negombo, Galle, and Jaffna. Students can earn a degree from the prestigious University of Moratuwa within a period of three years by following this path via ESOFT. Currently, ESOFT is the only organisation in Sri Lanka that is offering this Degree, via the collaborative partner model. Registrations for the new intake of 2013 are to be announced soon.
BCS (British Computer Society) HEQ
ESOFT is the only Accredited Course Provider in Sri Lanka for offering the BCS Higher Educational Qualifications (HEQ) and have produced over 30 Sri Lankan and World prizes. This is a valued qualification as it can be completed within a period of 18 months and is also approved by the University Grants Commission.
We offer the BCS HEQ as a fulltime Degree programme under the designation of BCS-Plus. The course is conducted full time, on all weekdays and covers the BCS subjects as well as additional modules including OCJP, MCTS, CCNA, Web Designing, Hardware and Networking, and more. The exams can be completed in 18 to 20 months and thereby provides a fast track to gainful employment or entrance into a Masters Programme such as an M.Sc or MBA.
Local University students and Government teachers will receive a 25% discount when registering for this course.
Short Term Diplomas after A/L's
For those that are not interested in studying for a Degree just yet, ESOFT can offer a number of Diploma programmes in Computing and IT, Business Management, Software Engineering, Web Engineering, English Language Skills, and more. Course duration ranges from 4 to 6 months with unrestricted lab / practical work thereby giving the students a firm footing for any professional career choice.
Students that register for the Diploma Programmes will receive a free ESOFT T-Shirt while stocks last, and students that register for the Diploma in English will receive a free role-play DVD which demonstrates practical usage of English skills. It is important to note that over 12,500 students chose ESOFT as their Education Provider for Diplomas in the year 2012, and this year we expect that number to surpass 20,000 satisfied students.
Come and talk to our counselors and see what ESOFT has to offer. You can also visit www.esoft.lk for more details, or call us on our islandwide hotline at 011 7 55 55 45. Our branches are available islandwide including in the North and the East.
Follow @timesonlinelk
comments powered by

Disqus