Study in LATVIA @ Riga and Turiba Universities
View(s):

The schengan state opens doors to students  Ebiz Consultancy Services – Joins hands with Leading Universities in Latvia

Ebiz – Joins hands with RTU and Turiba University in Latvia to collectively provide University Degrees, Masters and PhD programmes at an affordable costs along with other three Universities and Business Schools.

Latvia is the central country of the Baltic States (Estonia, Latvia and Lithuania). On the world map Latvia is to be found in North-eastern Europe, on the east coast of the Baltic Sea.

Study in Latvia are represented by consortium of two Universities – Riga Technical University and Turiba University offering Engineering, Law, Public Relations, International Communications, Business, Tourism and Applied Linguistic studies at Bachelor, Master and PhD Level in English medium as well as in its own Language Latvian.

Traditionally Latvian Education has been accessible for International students due to affordable tuition fee, moderate living costs, High Educational Standards, Safety, Religious and Cultural tolerance.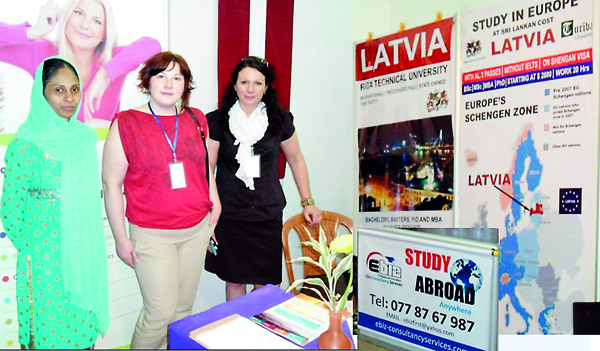 Parents who strive to educate their son or daughter for higher studies or students who themselves are aiming at their higher studies in a foreign country specially in Europe now have the best option to choose Latvia as their study destination for quality world recognized Degrees, Masters or PhD level education at a least investment and at a world standard.
Amazingly the Degrees and Masters programmes costs only US$ 2680 for full one year lowering the cost to the minimum.
The living costs are relatively as low as $250 to $300 per month including campus accommodation, food and travel etc.
About the Universities:
Riga Technical University (RTU)
RTU is an accredited, internationally recognized European level university offering high-class academic and professional study programmes. This University has more than 150 years of history and boasts producing many Scientists in its tenure of history. On 14th October 2012, Riga Technical University Celebrated its 150th Birthday
Riga Technical University (RTU) Ranked 2nd in the country 4icu.org world university ranking 2010.
RTU comprises the faculties of: Architecture and Urban Planning, Building and Civil Engineering, Computer Science and Information Technology, Electronics and Telecommunications, Power and Electrical Engineering, Engineering Economics, Materials Science and Applied Chemistry, and Transport and Mechanical Engineering.
Turiba University
Turiba University is one of the leading higher educational institutions in Latvia with a stable tradition and a clear vision of common European educational space.,Turiba is proud of its more than 5800 students and 11 432 alumni.
Has a vision of Internationally acknowledged and recognisable higher educational institution of business administration.
Main study directions of Turiba is – business administration, law, management of tourism and hospitality companies, public relations.
University of Latvia : is ranked No.1 in Latvia providing wide range of Degree to Doctoral level programmes Eligibility and Selection Process: It is a much more straight forward criteria these universities apply in the selection process. It is compulsory for a student to have the following qualifications:
The intakes are in February and September each year. Students must have qualified GCE A/L Exam in all three subjects with an average above 50% for undergraduate programmes. Masters students should have completed their relevant Degrees.
Be proficient in English Language (IELTS preferred but not essential. Should sit for English/Maths test conducted by University.
The University representatives are scheduled to arrive in Sri Lanka to participate in the upcoming Edex Fair and to subsequently hold seminars, Selection tests and Interviews for next intakes. Students who are interested advised to contact Ebiz on 0778767987 to pre register to participate in seminars.
TOTAL SOLUTIONS FOR STUDENTS
Ebiz Consultancy Services provides hassle free consultation process in guiding, registering students and preparation of visa documentation with least or at no cost.*Conditions Apply. For more information: visit ebiz-consultancyservices.com or visit www.facebook.com/ebiz.first
Graduate or Post Graduate studies earned in this Baltic Country are widely accepted in any of the European countries or around the world when considering for their career opportunities.
Follow @timesonlinelk
comments powered by

Disqus