The Overseas School of Colombo- a better choice
View(s):

The Overseas School of Colombo, the premier international school will host "Open Day" on 12th January 2013, at 9.30am at the school premises. With an astounding mix of 45 nationalities, it is truly international.
Established in 1957, OSC is the only school to offer the International Baccalaureate (IB) programme from Pre-school to Grade 12. The aim of all IB programmes is to prepare students for the challenges of life in the 21st century and aims to develop responsible, global citizens who will strive towards a better, peaceful world.
OSC embraces this aim in its teaching, with a focus on developing responsible persons who strive for personal excellence within a culturally diverse school. Respect and appreciation of all cultures is paramount with a strong emphasis on mutual understanding.
The multi-cultural, highly qualified faculty manages small class sizes averaging 20 students;they develop independent thinking, critical analysis and emphasize community service. Classes are conducted on the basis of inquiry, learning, and assessment of knowledge on a continuum that prepares them for the diploma and further higher studies.
Physical education, community service and the arts play a big part in the curriculum providing a holistic learning atmosphere. Children engage in community service throughout all grades, and grade 10students have to prepare & manage their own personal project. This learning helps them to grow as adults who are capable of taking action resulting in long term impact.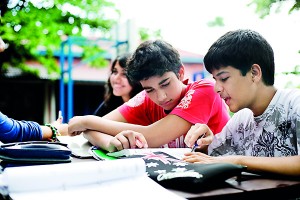 The two year diploma programme is a rigorous course of study which prepares them for the demands of university. Students integrate seamlessly into analytical, research and higher order thinking required at this juncture. Research conducted by the IBO, www.ibo.org/researchhas shows that students who follow the IB diploma programme gain acceptance into top tier universities, perform consistently well, and generally graduate with first or second class honours.
OSC currently holds a 100% diploma pass rate with an average of 36 points, which is higher than the world IB average of 30. Graduates from OSC have gone on to further their studies at Cambridge University, University of Edinburgh, Kings College (Oxford), London School of Economics, University of California- Berkeley, University of Boston, George Washington University, Stanford University, Monash University, University of Sydney, University of Montreal, University of British Columbia, Open University of Sri Lanka and American National College amongst others.
Education is crucial for a child's success, but even more critical is the basis of learning, independent thought, confidence, competence and motivation that a student gains. OSC provides that grounding and sets the platform from which your child will develop into internationally minded, confident, fully capable young adults.
The Open day is an ideal opportunity for parents to learn about and understand the IB programme, curriculum and facilities available at OSC. Students of Sri Lankan nationality, who have completed the local or London O/levels can also discuss details of the Scholarship offered for the IB diploma programme.
For details of Open Day registrations and the Scholarship program, please contact Lilamanie or Iyanthie on 112 784 920- 2, or email; admissions@osc.lk / ialwis@osc.lk . Further information is available on our site; www.osc.lk
The programme will be held on 12th January, 9.30am at The Overseas School of Colombo, no. 325, Pannipitiya road, Pelawatte, Battaramulla.
Follow @timesonlinelk
comments powered by

Disqus