Environmental jester who uprooted justice
View(s):

My Dear Kekille Yapa,

I thought of writing to you after hearing what you had to say about chairing a committee that judged the highest of judges. Congratulations, Yapa, yours was a wonderful performance and one that will be hard to beat for a long time to come- even King Kekille would have blushed in embarrassment!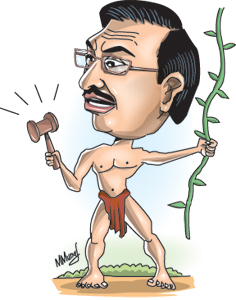 In fact, I was surprised to learn that you hailed from Kurunegala. Ever since you sat as chairman of that committee, I had imagined that your hometown was Ambalangoda which of course is famous for its puppets!
Yapa, you have performed a great service to the country not only because of your work as chairman of that committee but also because you have highlighted how to overcome the law's delays in a most efficient manner.
You have shown that justice can not only be done, it can be done at express speed even though it may not appear to be done. No wonder, then that Mahinda maama now likes to refer to you as the 'Chief Justice!'
For example, Yapa, you gave the accused in this case a thousand pages of documents and asked her to submit her responses to the charges against her within twenty four hours. I find that very reasonable. After all, she only had to read them at the rate of about forty pages an hour!
When the accused wanted to summon witnesses, you didn't allow that. Of course, that would have allowed a fair trial but just imagine what a circus that would have been, especially when some of the witnesses-those who signed the petition against the accused-didn't even know what the charges were!
Then again, the accused is now complaining that after you told her that no witnesses will be allowed, you summoned your own witnesses. Well, it is not your fault that they had left the proceedings by then, is it?
And you are not some errand boy to inform them that you have changed your mind about summoning witnesses, so that they could return to the proceedings. Your job is simply to do what Mahinda maama wants you to do, and try to get that over and done with as quickly as possible.
Then, those opposition chaps in your committee complain that they were ignored throughout the proceedings. Being the opposition, they must know that they were there just to make up the numbers which is why Chamal maama cleverly allocated only four members out of eleven to the opposition.
There is also a complaint that two members of your committee, Wimal and Rajitha, had been 'judged' by the accused and that therefore they shouldn't be in the committee because there was a chance that they would be prejudiced against her.
That seems like a reasonable argument at first glance but Chamal maama has to find a handful of members not from the general public but from the house at Diyawanna Oya-and almost everyone there has been hauled up before courts on some charge or the other.
Then they complain that some of your members insulted the accused. What they don't realise is that this is a committee made up of people who normally work at the house by the Diyawanna Oya-and they were simply using the language that is usually heard there.
I am sure they don't know any other way to speak and let us be honest about this, Yapa, people like Wimal, Dilan or even Rajitha are not usually included in a committee for their intellectual contributions. They were selected to do a job and I think they did it well!
And you, the genius that you are said that anyone can listen to the tapes of the proceedings because you know as we all do, that insults are deleted from the recordings. Ah, the recording technicians would have been busy that day!
Then there is all this talk about appointing another 'independent' committee. I agree that this is all because Mahinda maama said he will refer your findings to another 'independent' committee because it is the 'right thing to do'.
We all know, Yapa, that there will be no 'independent' committees in this country-not for a while, anyway. And anyone who knows anything about Mahinda maama should have known that he was just throwing a red herring-just like he did with the thirteenth amendment!
When I think about how you acted in the last month, I can see a lot of similarities between what your committee did with the impeachment and what happened in our last test match in Melbourne earlier this week.
Why, Yapa, it was a totally one-sided affair with one side being bullied into submission, several players were so hurt by the proceedings that they opted not to take part in the final stages and it was all over before you could even say 'How's that?'!
Because of all this, Yapa, I think you have done a great job as chairman of that committee and Mahinda maama ought to give you a promotion instead of asking you to be in charge of a 'rubbish' subject like environment.
Since it looks like the post of the highest judge may fall vacant soon, why not get someone to suggest to Mahinda maama that you could take up that post? That way, you will be happy and Mahinda maama will be happy as well because he can then be sure that all the verdicts will go his way!
Yours truly,
Punchi Putha
PS-If you don't like that particular career path, I heard that they were calling for applications for a hangman at Welikada. I am sure you will be successful if you apply because you have already got the required experience-as judge, jury and executioner as well!
Follow @timesonlinelk
comments powered by

Disqus