From way back then to now: Our history
By D.C. Ranatunga
View(s):
We needed a comprehensive history of our country. It has just arrived – a multi-volume History of Sri Lanka from pre-historic times right up to 2010. This mammoth task took five years to complete and the Sinhala version has just been released – the other two (Tamil and English editions) will be out next year.
'Sri Lankeya Ithihasaya' is a publication that renowned publisher M.D. Gunasena & Company can be proud of. Its five volumes are well presented in a single pack.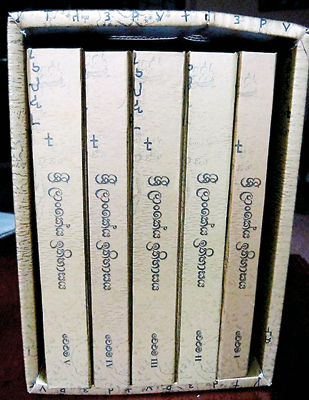 Meticulous planning had gone into the whole exercise. A team of historians initiated a feasibility study followed by a detailed plan to identify how the different periods could be divided, who the compilers and contributors of the selected topics should be.
W. M. K. Wijetunga, an experienced academic who served as Associate Professor of History-Sri Jayawardenapura University was selected as the Chief Editor. "It was an idea of Percy Jayamanne, seasoned journalist and Athula Manchanayake that we took forward. We prepared a concept paper and they discussed it with the publishers. Once it was accepted, a few of us had a brain storming session.
Those who took part – Dr. Lorna Devaraja, Prof. W.I. Siriweera and Dr. Senaka Bandaranayake were all well versed in history and archaeology. They are well known researchers who had written papers and books," editor Wijetunga said.
The team identified 30 possible contributors, all senior academics and invited them for a two-day workshop. The plan was to write the history in five volumes. Each was to have an editor taking responsibility for that particular volume. The chief editor was to take overall responsibility.
Forty nine contributors were picked to write articles on selected topics."Another key decision was to include certain special subjects in addition to the core subjects. Each volume has several subjects in addition to what can be strictly termed 'history topics'. Thus it takes on an encyclopaedic look," Dr. Wijetunga said.
The first volume edited by Prof. W.I. Siriweera, covers the period Pre History to 500 AD. Eleven chapters deal with the relevant historical themes. The extra ones are on Pali literature, Stone sculpture, Development of Buddhist Sculpture, and Architecture. The volume has 466 pages.
The second volume edited by Dr. Wijetunga covers the period from 550 – 1300 AD (606 pages), the third from 1300 – 1800 AD is edited by Dr. Lorna Devaraja and Dr. K.D.G. Wimalaratne (658 pages), the fourth from 1800 – 1948 edited by Prof. Amal Jayawardene and Dr. Wijetunga (586 pages), and the fifth from 1948 to 2010 has been edited by Prof. M.U. de Silva (694 pages).
There is bound to be a lot of interest in Volume 5 since none of the earlier publications on the history of Sri Lanka have gone beyond 1977 – that too only by one author. Among the contributors to this volume are Prof. A.V. de S. Indraratne on 'Economic development over six decades (1948-2000)'; Dr. Bertie Gajameragedara on the 'Evolution of Sri Lanka's foreign policy'; Prof. Amal Jayawardena writing on Indo-Lanka relationships; Prof.Jayadeva Uyangoda on Threats to State power; Prof. Malini Andagama on Constitutional and political development; and Prof. Thilaka Mettananada on the Evolution of a welfare state, while Major-General Vasantha Perera traces the history of the Sri Lanka Army and the Eelam war up to 2005. It culminates in a Postscript by chief editor Wijetunga.
Among the other subjects discussed in the volume are Sri Lanka's judicial system (Advocate S. Selvakkumaran), Tamil creative writing (Prof. Mohammad Nuhmana), Print and Electronic media (Prof. Tissa Kariyawasam), Sinhala cinema (G.Hamini Weragama) and Tsunami 2004 ( Prof. Jinadasa Katupotha).
The University of Ceylon in 1959/60 made the first serious attempt to compile a comprehensive history of the country. Professors Hemachandar Ray and Senerat Paranavitana edited Parts I & II of the first volume. With their departure, the task was entrusted to Prof. K.M.de Silva. The publication of volume 2 fell behind and the third volume came out in 1973. Volume 2 was released only in 1995. The period covered by the three volumes was from the earliest times to 1948.
In 1981, Prof. de Silva published his single volume 'A History of Sri Lanka' with a revised version appearing in 2005. Professor Siriweera covered the period from earliest times to the 16th century in his publication 'History of Sri Lanka'. English readers thus had a few publications to refer to but they will find the Gunasena publication exhaustive and well compiled.
The editorial team deserve a pat on the back for their efforts. The presentation is neat and the print is clean. I wished the photographs were part of the text. As it is, they appear at the end of each volume lacking impact since they are not linked to the relevant text. This can easily be corrected in the English and Tamil volumes.
Follow @timesonlinelk
comments powered by

Disqus