Intermediate Boxing Meet from July 9
View(s):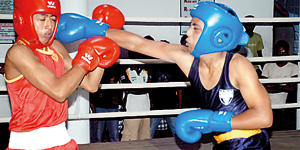 The Intermediate Boxing meet for men and women conducted by the Amateur Boxing Association is scheduled to be held from July 9 to 13 at the Sugathadasa Indoor Stadium. Men and women pugilists between the age group of 17-34 who have participated in higher meets and winners of major boxing meets are not eligible to take part in this meet which is solely for amateurs.
The organizers are looking forward to the participation of over 120 pugilists from the top most boxing clubs in Sri Lanka in the likes of Army, Navy, Air Force, Police who are billed to have over 40 in the fray and Slimline BC which will be fielding eight boxers.
Most of the boxers from these clubs who won gold medals are expected to contest and the organizers are looking forward for a high standard of boxing to be exhibited by the pugilists.
The men's events will be of three rounds of three minutes while the women's events will be of four rounds of two minutes with both categories being given a one minute break in between the bouts.
The scheduled events:
Men's: Light Flyweight 46-49kgs, Flyweight 52kgs, Bantamweight 56kgs, Lightweight 60kgs, Light Welterweight 64kgs, Welterweight 69kgs, Middlewight 75kgs, Light Heavyweight 81kgs, Heavyweight 91kgs, Super Heavyweight over 91kgs.
Women's: Light Flyweight 45-48kgs, Flyweight 51kgs, Bantamweight 54kgs, Featherweight 57kgs, Lightweight 60kgs, Light Welterweight 64kgs, Welterweight 69kgs, Middleweight 75kgs, Heavyweight 91kgs, Super Heavyweight over 81kgs. – MSA
comments powered by

Disqus