"If you are alert, then farming can turn you on as no drug can ever do. Even if it is not very economical, even if it is not very paying, don't be worried; that is irrelevant," - so said Spiritual Leader Osho in his book "Don't Bite My Finger, Look Where I'm Pointing".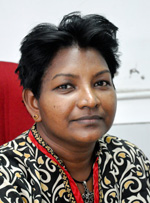 Dr Sujeewa Gunaratne
This may have been the reason for someone who started life as an accountant at Ceylon Match Company (CMC) to get into the fruit and vegetable business. Settling down to a long chat at his office with the Business Times at Battaramulla, Sarath de Silva, Chairman International Foodstuff Group of Companies (IFCO) says as an accountant, he started diversifying for CMC under the aegis of the then CMC Chairman, Lalith Hewavitharana. "I started this career with exporting sea food for them. When he passed away, I started on my own," he reminisces, adding that the over 30-year old history in fruit and vegetable exporting has stood him well.
He says that IFCO has been the largest exporter of foods and vegetables for the past 33 years holding 40% of the nation's fresh fruits, vegetables, nuts, cereal and other food product exports. "Since 1979 we have been in the export of quality fresh vegetable, fruits and food products from Sri Lanka," Mr. De Silva says, adding that apart from fruits and vegetables, the company also exports nuts, edible oil, seafood dairy products, coconuts, dried fish, dried food products and house plants etc, in a smaller scale. The total earnings of the company exceed some Rs 560 million.
Farm to folk
Now IFCO exports to 17 countries and Mr. De Silva is quick to add that the company has 12 regular countries to which they export while five countries only want their produce during the season. "We export to countries spread in the Asian, European and Australian continents," Mr. De Silva says. It's easy to see that IFCO has evolved to a successful foreign income revenue stream and organically produced IFCO crops have earned a reputation in the international markets for their supreme quality.
In a bid to keep the motto "'farm to folk' within 24 hours" all IFCO exports are grown locally, meticulously cared, under strict control ensuring authenticity in farms located island-wide including Walalgoda, Thunkama, IFCO Nelna, Galewala, Mirigama/ Katana, Gampola, Gokarella, Padeniya, Welikanda, Mangala Eliya, etc.
The Business Times team had a first hand experience at IFCO's sorting and packing plant at Homagama where Sujeewa Gunaratne, CEO Food Technology and Quality Assurance at IFCO, joined in the conversation to explain the process at this plant. The collection which are sorted at the plant and then carefully washed, dried and packed into boxes and readied for shipment is a process that is a delight to watch.
Dr Gunaratne says that the challenges are in getting the produce across to the buyer within a day. "We have this concept of farm to fork and we almost all the time succeed in getting the produce to the customer within a day.
We send it to the Maldives within a day and we take a little more than a day to export to the Middle East," she explains, adding that IFCO's effort is to send the produce within a day to those countries. IFCO exports 20,000 kilos of produce for a week.
IFCO operates coordinating offices in Maldives, India and Thailand.
Going green
He stresses that scientific research has revealed that a person must take at least 800 grammes of fresh fruits and vegetables daily. "Eating 600-800 grammes or at least seven portions a day of assorted cereals, legumes, tubers, and roots is the best way to get anti oxidants and improve health," he says. He stresses that one of the most important steps you can take to prevent heart disease, cancer, Alzheimer's, and Parkinson's disease is to eat plenty of antioxidant-rich foods.
"Fruits and vegetables contain essential vitamins, minerals, and fibre that may help protect you from chronic diseases. Compared with people who consume a diet with only small amounts of fruits and vegetables, those who eat more generous amounts as part of a healthy diet are likely to have reduced risk of chronic diseases, including stroke and perhaps other cardiovascular diseases, and certain cancers," he says. To get a healthy variety, Mr. De Silva advocates thinking colour. He adds that eating fruits and vegetables of different colours gives your body a wide range of valuable nutrients, like fibre, folate, potassium, and vitamins A and C. Some examples include green spinach, orange sweet potatoes, black beans, yellow corn, purple plums, red watermelon, and white onions. For more variety, he says try new fruits and vegetables regularly.
Technology transfer
IFCO is on a mission to improve the produce range of Sri Lanka, import seeds and plant materials of hybrid varieties of fruits and vegetables, propagate them in own farms and distribute to out-growers.
Mr. De Silva says that disseminating knowledge and modern technology transfer of hybrid planting materials and seeds, reduction in post harvest losses, etc is also a main task that the company does.
Mr. De Silva's concept of a model farm, affiliated more then 2500 farmers was recognized by the government as a solution to alleviate poverty and develop the agricultural sector of the country. He says that IFCO imports Royal Thai Guava - Nakam - Paton (seedless apple guava variety) and Hanoi Vietnamese dragon Fruits, sweet Tamarind and Rose Apples, multiply them at IFCO's nurseries, use them in IFCO's plantations and distribute them to contracted out-growers for exclusive growing in the country.
His immense contribution in uplifting the agricultural sector of Sri Lanka by changing subsistence farmers to commercially viable farmers in transforming traditional agricultural to modern agricultural procedures and introducing new perennial crops like Thai guavas, year round drumsticks, papayas, passion fruit and dragon fruit were well acknowledged. Mr. De Silva says that in the last 33 years IFCO has made its presence slowly but steadily contributing towards production, technology, infusion of technology, networking and exporting. He adds that today most of the hyper market shelves have a permanent space for the IFCO brand.
Econo - pack
In addition to exports, the company also distributes its surplus production to the local market though the IFCO Agri Produce Marketing Company with five franchised shops in Colombo, the suburbs and the Meegoda night bazaar. Dr. Gunaratne says that this comes as budget packs of Rs 480 and Rs 700. "The price difference is because one such pack has 12 vegetables - each worth 300 grammes and the other has 500 grammes of those 12 veggies," she says, adding that these packs are delivered to the doorsteps of households in and around Colombo and its suburbs without an additional charge.
The bi-products of seconds, being IFCO juices, dehydrated fruits and vegetables are also sold.
Mr. De Silva added that IFCO, under the government programme of achieving US$ 20 billion export turnover for Sri Lanka, will develop 2000 acres of two projects that would if possible completely produce Sri Lanka's requirements of table grapes, pomegranat, red flesh guava and cashew nuts.
IFCO presently has schemes in Galewela, Doluwa, Embilipitiya, Walalgoda, Padeniya, and Mangala Eliya where they work with out-grower farmers. The farming locations are selected so that the irrigation system in the growing area comprises of well-development infrastructure which facilitates cultivation and year around irrigation.
"The advantage in achieving this would be the natural conditions prevailing in our country such as temperature, good soil, availability of highlands over 7,000 feet above sea level, human capital and our capability in obtaining the latest technology from a team of foreign and local experts," he added.