Forte, a consultancy for people development and for Organizational Psychology, recently launched its new logo and website.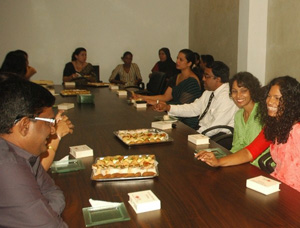 Forte founder Rozaine Cooray (right) at the launch
Founded by Rozaine Cooray - who is also a Business Times columnist - nearly three years ago, Forte continues to aspire in its aims of improving company strengths, working on what is available instead of focusing on what is not, the consultancy said in a statement.
The launch, held on March 8th, was a simple and cozy affair that preceeded with the lighting of the lamp.
Dr. Anura Ekanayake, an economist, coach, academic and former Chairman of the Ceylon Chamber of Commerce, speaking at the event addressed the small audience on the importance of psychology in the workplace, complete with anecdotes that stressed his point. The launch of the logo and website was followed by a short explanation by Ms. Cooray of the future projects that Forte has lined up.