The Hemas Group recently celebrated 10 years of its early childhood development initiative "Piyawara" in partnership with the Children's Secretariat of the Ministry of Child Development and Women's Affairs.
The company said in a media statement that the 'Piyawara' story began in 2002 when the Hemas Group, through the 'Hemas Outreach Foundation' launched its CSR Initiative in the area of Early Childhood Development in Sri Lanka. Named 'Piyawara', it signifies the initial steps taken by a child at the beginning of the journey through life.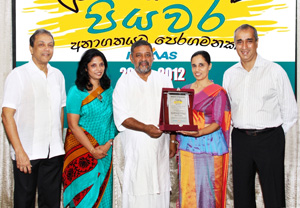 Picture shows Minister of Child Development and Women's Affairs Tissa Karaliyedde and Director of the Children's Secretariat Yamuna Perera with the plaque presented to the Ministry to commemorate 10 successful years of 'Piyawara'. Also in the picture are (L to R) Chairperson of Hemas Outreach Foundation Abbas Esufally, Senior Manager Corporate Communication and CSR at Hemas Shiromi Masakorala, and CEO of Hemas Holdings Husein Esufally.
The project has added and upgraded 34 model preschools to the existing governmental network spanning Sri Lanka's geographical divide and today enriches the lives of nearly 3,000 children daily.
CEO of Hemas Holdings, Husein Esufally attributed the sustained financial assistance and support received from the main board of Hemas Holdings and the senior management as another driving force behind Piyawara's success. "Together with this, it is our conscious non-commercialisation of this CSR project by avoiding undue publicity that has helped it to be a success," he added.
To mark the 10th anniversary, awards were presented to key partners of the project. Among them were officials of the Ministry, the Sri Lanka Police and the academics in the field.
Chairperson of the Hemas Outreach Foundation, Abbas Esufally said, "A project of this magnitude also incurs recurrent costs on a very frequent basis. Over the years, Piyawara's success story attracted foreign business partners who rallied round in a show of solidarity with continued financial support. Among them is a key donor Rewe Touristik Germany, a pillar of strength in this journey".