One-day training programme for teachers
The Sri Lanka English Language Teachers' Association will hold its Annual General Meeting and a one-day training programme for teachers next Sunday, December 11 at the Royal College Old Boys' Union Auditorium from 8.30 a.m. onwards.
The day's programme will include a series of parallel workshops for primary, O/Level and A/Level teachers of English. Some of the workshops will deal with learning vocabulary, writing skills, summary writing, assessing speech and listening skills, story telling, story making and using poetry in the classroom.
Prof Manique Goonesekera will deliver the plenary address, while the trainers include Dr Hemamala Ratwatte, Mahishi Ranaweera, Darshana Samaraweera, Dilini Walisundara, Dinali Fernando and others.
The latest SLELTA Quarterly will also be launched at the AGM. The latest SLELTA publication, English in Sri Lanka, edited by Prof Siromi Fernando, Prof Manique Gunesekera and Prof Arjuna Parakrama will also be on sale on the day. The proceedings of the 5th SLELTA conference in 2008, The Learning Teacher, edited by Prof Manique Gunesekera and Kaushalya Perera, will also be on sale.
Registration begins at 8.30 a.m. on the day. The registration fee is Rs 1,000 for SLELTA members and Rs 1500 for non-members, covering lunch, tea and resource materials. Please email or call Neelika Edirisinghe (neelika.e@gmail.com or 077 291 9386) or Jenny Gunesekera (jnfr_mark@yahoo.com or 071 812 4143) for more details or visit the SLELTA website at www.slelta.lk .
Championing a cause off the field
Anlene in its efforts to increase the awareness and importance of bone health amongst women recently launched its first Asthi Shakthi Kantha Shakthi movement in Colombo. The movement is championed by former Sri Lanka cricket captain Kumar Sangakkara and his wife Yehali Sangakkara who encourage Sri Lankans to 'Say Yes To Mobility'. It aims to highlight good bone health through a series of activity camps and by building mobility paths in different parts of the country.
South African team in Wanni
A six-member foreign delegation, headed by Ebrahim Ebrahim, South Africa's Deputy Minister of International Relations and Cooperation visited the Wanni recently to receive an update on Sri Lanka's post-conflict development.
Major General A.K.S. Perera, Commander, Security Forces Headquarters, Wanni (SFHQ - W) welcomed the delegation on arrival at the SFHQ - W premises.
Major General Perera presented a comprehensive account of different development roles, being carried out by the troops upon the successful completion of the humanitarian operations against terrorism some two years ago. He also elaborated on security arrangements that have been made, making life easier for the people in Wanni.
The delegation took time off to see the few remaining former LTTE combatants, now undergoing rehabilitation at Poonthottam Rehabilitation Centre.
Prime Scientific forum begins tomorrow
The 67th Annual Sessions of the Sri Lanka Association for the Advancement of Science will be held from December 5 to 9 at the University of Sri Jayewardenepura. This prime scientific forum in the country will bring together scientists from all disciplines to a common stage.
The highlight of this year's sessions, continuing tradition, will be the presentation of 228 research papers covering a wide range of topics directed at national development, it was announced at a media briefing last week.
The main theme will be 'Understanding, harnessing and conserving the ocean around Sri Lanka'.
Annual congress of the International Open University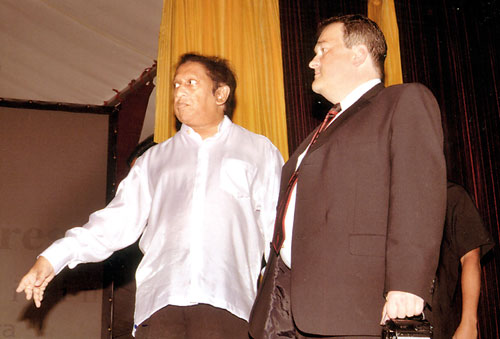 The annual congress of the International Open University was held at the BMICH recently with over 650 foreign delegates. Picture shows Chairman of the Open University Dr. Geethanjana Mendis welcoming the Director of the University of the Czech Republic Dr. E. Dimitrov.
Dr. Godakumbura at World Scholars Leadership Symposium
Well known Sri Lankan Dr. Wijaya Godakumbura received a standing ovation at the World Scholars Leadership Symposium in Thailand recently, for his speech on 'Success: the magic word'.
Dr. Godakumbura who has been involved in a successful burn prevention project for the past 19 years was a guest speaker at the one- week's symposium, held for 375 university students from around the world in Pattaya.
The organizers, Humanitarian Affairs, UK, had chosen five guest speakers based on the nature and extent of the services they have rendered to the society.
Dr. Godakumbura cited Vision, Mission, Goal, Determination, Commitment, Self assurance, Courage, Ability to overcome obstacles, Funds and Media support as 'ingredients for success', stating that the success he achieved such as winning four international awards (Rolex, Reader's Digest, Lindbergh and World Challenge) and recognition by WHO, UNICEF, International Society for Burn Injuries, Humanitarian Affairs-UK, Commonwealth Science Council etc for his Safe Bottle Lamp Project was due to strict adherence to those ten points.
Royal Asiatic Society calls for papers
The Royal Asiatic Society of Sri Lanka is convening its 5th Annual Research Conference on the Humanities and Social Sciences on March 30 and 31, 2012. The 2012 Research Conference will also launch as a component the 1st Aesthetic Studies Conference and includes the 2nd Philosophy Studies Conference and the 4th Sinhala Studies Conference.
Research papers may be presented, among others, under the following themes: Aesthetic Studies: art, music, dance, new media. Philosophy Studies: Buddhist, Hindu, Western philosophies; Sinhala Studies: Languages Sinhala/English, comparative linguistics, literary criticism, literature and society, Sri Lankan society, past and present, history of science and technology, history, archaeology and numismatics, trade and cultural relations. Papers can be presented in Sinhala and English.
Abstracts of papers should not exceed 350 words and must include Title, Author(s), Affiliation, Address, Tel/Fax, e-mail address. Abstracts can be sent by e-mail to conference@royalasiaticsociety.lk as attachment in Word, or by fax to Fax No: 2699249 or by post to the Secretary, Royal Asiatic Society, Mahaweli Centre, 96 Ananda Coomaraswamy Mawatha, Colombo 7. Sending of abstracts by e-mail is preferred.
A committee of scholars will be selecting the papers, and acceptance will be notified. The deadline for submission of abstracts is January 15, 2012, acceptance will be by January 31 and submission of full papers will be required by February 15, 2012.
ILPJ to conduct workshops on journalism
The Institute of Lanka Professional Journalists (ILPJ) will conduct a series of free workshops to train Journalists islandwide with leading media personnel participating in the training programme. Those interested in enrolling for the workshop can obtain an application by sending a self-addressed envelope to the Convener, Institute of Lanka Professional Journalists (ILPJ), 141/1 Saranapala Road, Piliyandala or email ilankapj@gmail.com. More details can also be obtained on tel: 0112606027 0r 0773124550.