Aditya: Hooked Indian magnate Vijay Mallya who came along in his private yacht fishing for supper. Therefore Aditya was our first port of call. If you haven't a private yacht the just-launched Southern Highway speeds you in two hours on roads as smooth as Aditya's Irish Cream cheese cake.
The holiday-home-turned-all-suite boutique property retains home-away-from-homeness. Exotic artefacts prettify landscaped courtyards and interiors. "Aditya" means "sun" in Sanskrit and "sun" through a semantic prism refracts into 12 names for the sun after which the hotel's 12 suites are named. En-suite bathrooms flow into the terrace Jacuzzi, seemingly flowing into the pounding seas: bathrooms are doorless. Crafty architecture ensures you see the sea without being seen.
Designer fare: You get to pick the location at Aditya
But if you're wondering why your friends aren't seen they've probably vanished for secret whacking weekends at this culinary address. Dining experiences are synthesised in any fanciful location, including in your private plunge pool. But Viennese iced coffees complemented with homemade cookies are coolest on patios opening onto emerald grass which lies like a Persian rug. At breakfast coffee is beautifully brewed (no facile feat…), jams homemade (wonderful wood-apple) and home-baked breads and viennoiserie include pure butter croissants. I remark the only other place in Sri Lanka that manages proper French croissants is Hilton Colombo. It transpires that 30-something-Chef Namal spent eight years at Hilton Colombo.
Lankan cuisine includes delicate string hoppers, elegant rice-and-curry platters etc (prescribe spice/oil levels). Multi-talented Chef Namal also manoeuvres soups (try butternut squash), pizzas and better pastas than in Colombo. French five-course dinners and fusion innovations (Thai green curry in Mexican tortilla or curry leaf sorbet) impassion him but his latest pre-occupation is the recently-launched Thai menu. Chef Namal and Sous-chef Roshan (ex-Aman) diversified their skills in Thailand. However, how good can Thai food made by Lankans be? Outrageously good. Infinitely better than those vile Milkmaid Thai curries in Colombo. Hit that highway, GO for green, pause over yellow, don't stop at red- Thai curries, of course…
Beach dinners are sensational. No soothing serenade. Thunderous seas drum. As glass noodles hang from your fork like jellyfish, open-mouthed waves gallop towards you. Lightning zooms across ink-blotched skies. Relish the feast of Nature for the price of a manmade dinner.
Prices are comparable to Colombo 5-Stars. Fresh preparations also offer respite from recycled buffets. Desserts can be pricey. Nevertheless, Gerard Mendis's protégé confects fantastically fragile coffee meringue. Plunge into gorgeous choc chip sundaes with svelte silver spoons. But sundaes cost a chilling Rs1000 although Galle isn't Monte-Carlo.
Feast your eyes freely on GM Shamindra's extraordinary wildlife photographs. Moreover, Shamindra's staff is exceptionally trained (rare in Lanka). Indika, Pradeep, Chanaka- everyone. Indika delights especially. His pernickety would shame Michelin-star standards.
My verdict: little to fault. But let the weighing scales deliver the final judgement!
Jetwing Vil Uyana: Amongst the most bewitching hotels. If it's a hotel. It is more. An abandoned paddy field transformed into a wetland wonderland, a self-contained ecological universe.
An archway opens onto splendid lotus ponds pulsating with pink, purple and white flowers. Stone slabs flung across it take you onto a breezy pavilion, Sulang, with pillars shaped like budding red lotuses and an infinity pool flowing into beauteous lakes laced in wilderness. Above Sulang blossoms the restaurant Apsara boasting a magnificent floor-to-ceiling mural and views over vistas of water athrob with flora and fauna.
Think 110 species of birds… Gentlemanly Executive Chef Kanishka who has cooked for Michael Jackson offers breakfast Lankan-style on traditional mats in Sulang's courtyard. A sarekkuwa (woven cane stand) bears your plate of local specialities seasoned by the surrounds: a peacock dances beside you, a kite stills in air, a burst of blue betokens a kingfisher, stalks skein the skies. An iguana tans by the pool, but the crocodile doesn't like chlorine, sadly.
Regale in rusticity and reeds with the Ambula lunch, a paddy-field picnic. One is expected to negotiate beams of mud leading to the kumbura pela (mud hut in the paddy field). One is expected to proceed with splayed feet, but nobody forewarns. Having been taught to walk the demure straight line, I stumble into the bog…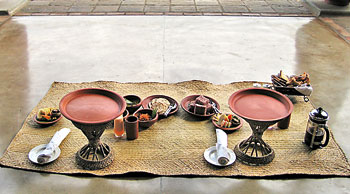 Tranquil setting: Breakfast at Vil Uyana
Better than a chute from the hena pela (tree hut) which levitates over the kamata (where the harvest is heaped). Attain culinary heights with a tree-hut dinner à la local farmers, except their spartan fare becomes a banquet of 30 Lankan dishes including kurakkan rotis, string hoppers, thosai, rice from the property's paddy fields, fish from their lake and even Veddah curries all served on customised clay dinner set. Romantic. However, when love doesn't last a weekend one wonders why supper must last eternities. Organisation could improve. Prices are precipitous. $50-100/head. But pay less for a high. Wines can be $200 less than at Colombo 5-Stars. Imbibe the seasonal spirit!
Accommodation at local rates renders a seasonal splurge irresistible at "Sri Lanka's Leading Boutique Hotel" (WTA 2011). And private dining acquires unprecedented refinement in your villa. Wooden bridges lit at night look like streams of gold rushing down to your "dwellings." Honeymooners adore the Forest Dwelling. Deceptively village hut-like. Then you spot your private plunge pool and verandahs. Sprawled over the first floor are bathrooms with a stone sunken bath sitting in a private courtyard with its own placid water body. Rooms upstairs are under thatch and bamboo standing on tree trunks and palm-walled. Balconies open onto a live wildlife programme.
Multifarious too are homemade ice creams (18 flavours), best had on languid afternoons in the library overlooking stretches of water; enveloping wildlife takes you from enchantment to enchantment. Were service on fast-forward mode, one would keep rewinding the experience.
Heritance Kandalama: Everyone seems to know what a chef at another hotel revealed, "Aitken Spence offers Sri Lanka's best culinary destinations." So I discovered at Heritance Kandalama. This Bawa creation emerges, not Venus-like from water, but from verdure. Floating rooftop gardens gush into green garlanding the hotel. An infinity pool melts into the Kandalama Lake. Drift away over breakfast on the barge.… But not before experiencing "Kottuwa" dinners (with ingredients from their herb gardens). Locals love the hotel's Lankan buffet for its authentic fire-breathing curries (no adulterated pandering to tourists).
Expect terrific textures, nuanced flavours, balanced ingredients sans vituperative whippings of uncontrolled spices, lagoons of oil and salt. This is the second best Sri Lankan food I've had, the best being at Madurai's Heritage Hotel. I wondered then why Lankan food abroad was better. I now know that was an ex-Aitken Spence hotel but the Lankan executive chef and GM preferred remaining in India. Kandalama is too far to return to, so I'm seeking the nearest A.S. hotel for seasonal feast-ivities. The problem is that cassata with homemade ice creams (real strawberry ice cream and no hideous pink supermarket fabrication) is exclusive to Heritance Kandalama…