I take a long time to write, says Ramya Chamalie Jirasinghe somewhat diffidently. Her last book, if anything, slipped almost unnoticed into the market, yet, the response has been not slow in coming. Released exactly a year ago, "There's an Island in the Bone' won the 2011 State Literary Award for Poetry, the award shared with another poet Vivimarie van der Poorten - and she is finally ready to talk about it, sharing her pleasure at being one with a quite vibrant company of Sinhala and Tamil writers of this land as they gathered to receive national recognition for their work.
Her slim volume, a collection of poems that had sprung through different periods in her life, was all of 20 years in the making. She had envisioned it for a long time, a small treasury that you could carry around and keep, she says, harking back to the books of her childhood, to the design-driven art of William Morris, calligraphic lettering and artistry evident on every page. A time when books were beautiful, a sheer pleasure to hold, read and keep in your library. "I always related to that era and valued it," she says. "Poetry is meant to be read (out ) and when you give it in the book form, I think it's important to encompass all those artistic forms." So in went many thoughtful touches like the woodcut out of Kolon wood created and stamped by an artist, the dainty ribbon bookmark crocheted by Chamila Kumari of the Victoria Home for Incurables. Thankfully in W.P. Perera who patiently hand bound some 300 books, and designer Deshan Tennekoon she found those who understood, she says gratefully. "I had taken so long anyway," she says, "I felt I must get it perfect."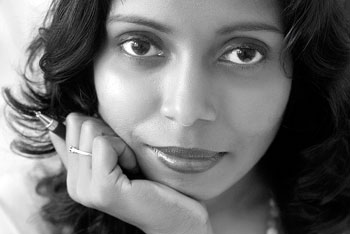 Ramya: A portrait by Alefiya Akbarally
People ask her if the book has a theme and it doesn't, she says, explaining that the poems themselves, written from the early '90s when she was first published by the English Writers' Cooperative weave through the personal and the public, though not in any chronological order. She drew from the first manuscript she sent to the Gratiaen in December 1998 and also the second in 2007. "I pulled out the better ones from both those collections and ended up with this. What I found was that it really showed my own personal changes, my growth and what I'd gone through. You have to deal with your personal life and how the public life you live kind of interface."
Behind the spare yet elegantly crafted lines is uncompromising clarity. Ramya the poet speaks with many voices: There is Ramya the traveller, Ramya, the mother, Ramya the daughter, Ramya, the nature-lover, Ramya the foodie, Ramya the Sri Lankan, but always the reader encounters this clarity. Her strength as a writer seems both her ability to engage fully and at the same time desist from sentimentality. She smiles that still for many it is the poems like 'Food for my daughter' and 'Learning Colours' that seem to represent her. Yet in others like 'Fifty seconds at the traffic lights'- and 'Burning on the A 9' and ' Lagoon Lotus' there is a powerful political voice that emerges.
'The last poem, 'The Moon at Seenukgala" is a personal favourite. "It's drawn from a really isolated setting but how that experience really helps you through your everyday public life. Poetry in a weird way does that, it's a private experience, from which you can draw things for your life," she muses, reflecting on how in moments of trauma, poetry can capture the immediacy of the situation. You remember lines from a poem, in a time of crisis, she says referring to a New York Times series -writers on writers -where the American writer Mary Karr talked about how during 9/11 she had to turn to poetry and how people turned to her work, trying to find some sense to it all as their known worlds crumbled.
Though she is wont to describe herself as a slow writer, the initial poem comes out very fast when the moment grips her, she says. "Each poem in its own way has its own voice. You can't force it, the poem comes with a voice. Whatever you're writing about has its own voice. The way I wrote Seenukgala would be very different to the way I wrote Hold-Up. The poem gives you the voice that it needs. Of course, then you craft that voice." Often the end surprises her, she says. "When it happens, you think there is something called a creative flow."
Her love for poetry she can trace to her childhood, which she describes warmly as near idyllic, shades of which we see in the poem 'My Parents' Home', even amidst its sad finality of approaching death. A late addition to the family, born 11 years after her sister, she has happy memories, of rambles through the sprawling garden of her best friend's ancestral home, food prepared lovingly, shared and savoured, all of which surface in the poems. Three book collections in a home that had a lot of books were to be a lasting influence. One was from a favourite grand aunt who would write to The Observer's Blue Page, "she was my hero, much younger than my grandmother" who migrating to the US left Ramya her very contemporary collection of poetry and literature.
Then her great grandfather's huge collection with impressively bound volumes and another 'fantastic collection' from a Welsh colleague of her father's who lived with the family for some six years when Ramya was a child. An explosives expert working with her father on the Gal Oya Development Board, his were forensic tomes, books on the occult, the novels of G.K. Chesterton, Ngaio Marsh. She didn't read them all, just dipped into them when she felt like it, and felt proud of her veritable library.
Writing thus came easy, her school day essays at Musaeus so stamped with individuality that an English teacher predicted 'You'll be writing one day'. Not surprisingly she studied English Literature and went on to do her Master's in Comparative Literature at the University of London. "Then of course you need your mentor and I found that in Anne (Ranasinghe)," she says, and in more recent times, her boss at the Fulbright Commission Tissa Jayatilaka, and others like Prof. Lakshmi de Silva and Prof. Ranjini Obeyesekere whom she counts on for that very critical assessment of her work. Her past seven years at the Fulbright Commission in Sri Lanka (she is now its Deputy Director), have also given her frequent and stimulating contact with American writers and academics, she says.
If the State Literary Award is proof indeed of Ramya's growing stature as a writer and poet, the signs have been there for a while. Shortlisted for the Gratiaen award twice, first in 1998 and then in 2007, she was a joint runner-up to the UK Guardian Orange First Words Prize of 2009. The Times of UK online featured her poem 'Lagoon Lotus', first published in this newspaper, in its 2009 selection of contemporary war poetry as did the just released 'The Sri Lanka Reader' published by Duke University Press. This year she was also long listed for the Fish Poetry Prize, Ireland. She has won the Youth Poetry Award of the National Youth Council of Sri Lanka in 1992, the English Writers Cooperative's Poetry Competition in 1997 and has had her work in The Tipton Poetry Journal, Channels, Nethra, Osprery and also in Kaleidoscope 2: An Anthology of Sri Lankan English Literature edited by D.C.R. Goonetilaka.
With two non-fiction works behind her, Rhythm of the Sea (a book on the tsunami) and Trinity ( a history of Trinity College) behind her, she's now immersed in a screenplay, verse and prose, a somewhat politically charged tale. There is too, a story set in Galle waiting to be told - begun for the Guardian contest of first lines; of love cake and "Dona Isabella Kathirina Fernando, 38 years old and new owner of the house with the longest verandah in the sacked Galle Fort, …." Ramya is in no particular hurry though. She knows now that it will unfold when the time is right.
There's an Island in the Bone is available at Odel and Barefoot bookshops.