The inaugural Ray Wijewardene Memorial Lecture organized by the Ray Wijewardene Charitable Trust in collaboration with the Institution of Engineers of Sri Lanka will be delivered by Prof. Anil Kumar Gupta on the theme, Harnessing Knowledge: Grassroots Innovations for Inclusive Development.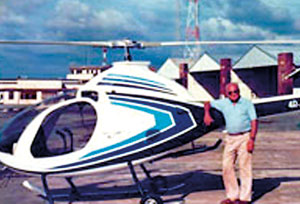 Ray Wijewardene with one of his home built helicopters
The lecture will be held on Tuesday, December 13, at the Institution of Engineers of Sri Lanka, 120/15 Wijerama Mawatha, Colombo 7 at 5.15 p.m. Contact 0774 835 899.www.raywijewardene.net. Admission is free. Dr. Gupta will be happy to meet Lankan innovators at the venue after the lecture.
Accepting the invitation, Professor Anil Kumar Gupta said, "It is a privilege for me and the Honey Bee Network to be invited for a lecture in honour of such an illustrious innovator, social change activist and thought leader of our sub-continent, and indeed the entire developing world."
Dr. Gupta is a Professor at the Indian Institute of Management, Ahmadabad and holds the Executive Vice-Chair of the National Innovation Foundation of India. He is a Visiting Professor of the European Business School, Berlin, Fellow of the National Academy of Agricultural Sciences and a Fellow of The World Academy of Art and Science. A distinguished academic and visionary, Dr. Gupta holds an Honorary Professorship at Tianjin University of Finance and Economics and is a member of the guest faculty at University of Natural Resources and Applied Life Sciences in Vienna, Austria.
He received the Bharat Asmita Acharya Shrestha National Award 2006 from MIT School of Management in Pune, India in recognition as the Best Management Teacher and won the Pew Conservation Scholar Award from the University of Michigan. Dr. Gupta received the Padma Shri National Award from the President of India, for distinguished achievements in the field of management education and was the joint recipient of Science-in-Society Award instituted by The Indian Science Congress Association. The recipient of Businessweek's Star of Asia Award and Far Eastern Economic Review's Asian Innovation Gold Award, Dr. Gupta was chosen by India Today Magazine as one of 50 Pioneers of Change in the country.
Dr. Gupta's lasting legacy is as the Founder of the Honey Bee Network, an organization which collects and disseminates traditional knowledge and encourages grassroots level innovation throughout India and elsewhere. Dr. Gupta's brainchild has helped preserve and develop thousands of inventions, ideas and applications of folk wisdom in rural India. The genius of Dr. Gupta was to have the vision to realize that rural India was full of ingenious folk without the education or connections to spread their ideas or to profit from them.
Today the Honeybee Network has teams of volunteers who scour the countryside for innovations that they hope to spread to other parts of the country. When innovations have commercial value, they pass the product on to the National Innovation Foundation, which is also spearheaded by Anil Gupta, that aims to streamline the manufacturing processes and formalize the intellectual property rights so that an entrepreneur can buy the rights to bring a product to market. From its small beginnings 15 years ago, The Honey Bee Networktoday has over 10,000 inventions and discoveries in its website.
Ray Wijewardene Charitable Trust
Ray Wijewardene (1924-2010) was a true Renaissance Man. An alumnus of Cambridge and Harvard Universities and a former Chancellor of Moratuwa University, Ray excelled in many different areas of human endeavour: agriculture, aviation, engineering design, inventions, renewable energy technologies and water sports.
Established in 2011, The Ray Wijewardene Charitable Trust promotes the vision and ideas of the late Dr. Ray Wijewardene. The Trust encourages and supports innovation in sustainable agriculture, renewable energy, engineering and aeronautics - disciplines and pursuits that were close to Ray's heart for over half a century. The trust is in the process of creating an award for innovation, publishing an illustrated biography and preserving his personal archives.