One of the world's biggest travel fairs, the World Travel Mart, is held in November each year in London. It was good to be back in familiar surroundings once again for me, after a year's break from this veritable annual 'pilgrimage' which all travel and hotel personnel make. This time my presence was in a more 'neutral', national capacity, showcasing the good work done by Sri Lankan Hotels in the area of sustainability and environment management.
I touched base with my friend, Gehan de Silva Wijeyeratne, formally head of Jetwing Eco Holidays, now back to his lesser known profession of banking in the UK. Gehan and I are in some ways 'partners in crime' as we have been credited with creating the branding behind the now world famous congregation of elephants each year in the Minneriya park, which unfortunately today seems to be under some form of threat, due to its popularity causing over-visitation.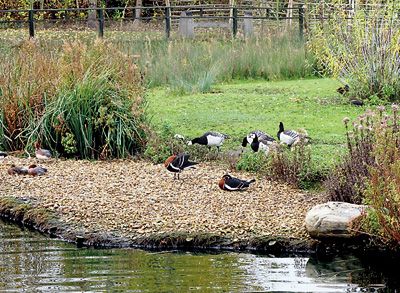 Gehan suggested that I join him to visit the London Wetlands Centre, which I had vaguely heard about. In all honesty I was not too excited about spending a whole day watching birds, which,though a fervent nature enthusiast was not my real 'cuppa' – much larger species of wild life being more to my liking ! However whilst talking to Hiran Cooray , Chairman of the Jetwing Group at the trade fair, I mentioned this to him and his advice to me was " Srilal, don't miss it". In fact he said that a visit he made about 8 years ago to the Wetlands Centre inspired him to build Vil Uyana.
So there I was, on a typical balmy London Saturday morning, making my way to the Hammersmith tube station to rendezvous with Gehan to visit the Wetlands centre. We decided on the 1-2 km walk from the tube station, rather than take the bus. We walked across the impressive Hammersmith bride over the Thames, and took the footpath on the right bank leading to the Wetlands Centre.
The entrance to the Centre is across a small lake and there are two entrances-one via the car park, and one for pedestrians. The ticket counter and reception is housed in the discovery centre and opens out to a central courtyard. The discovery centre has a wide range of leaflets and notice boards giving every possible piece of information about the activities and exhibits.
This is one aspect that I have seen in all good foreign national parks, which unfortunately we have not been able to emulate in Sri Lanka. Some attempts have been made where private sector sponsored visitor /information centres have been built, but none are integrated into the park, and stand in isolation, warranting a visit by only those who really make an effort to go there.
These information points in parks abroad are very much a part of the entrance and all visitors have to pass through them. The Sigiriya visitor centre no doubt takes the prize, situated about 1 km away from the Sigiriya rock, and that too, exactly opposite to it! Visiting an information centre must in no way distract the visitor from the main exhibit, and should on the contrary whet his appetite for the 'real thing' after seeing all the information available.
The London Wetland Centre is one of seven such wetlands in the UK, created and managed by Wildfowl and Wetland Trust (WWT). The centre situated in the heart of London, is one of the best wild life habitats in the UK, extending over 42 hectares of land, attracting some 180 species of birds, 8 species of bats and 500 species of moths and butterflies.
The centre courtyard leads to the several themed areas such as the video theatre, Bird Observatory, the Tower hide, Discovery centre, departure area and shop and the Water's Edge café. Several bird watching hides each having its own unique design, have been built at vantage viewing locations. A wide range of educational programmes are run each week for schools and other interested groups, with volunteers helping with the guiding and interpretation. Large picnic areas are available, and good signage enables the visitor to see all the exhibits self-guided.
What impressed me most was the well laid out, simple but very effective exhibits with the emphasis always placed on ease of visitor interaction. The simple, rustic but well-designed walkways, with smoothly tarmac surfaces, ideal for the movement of wheel chairs and prams, meandered through the water bodies.
One particular interesting exhibit was a 'pond cam' where visitors could 'see' what was going on underwater via a underwater camera, which could be swivelled around by a joystick which controlled the camera by remote control.
Another interesting exhibit was the sand martin nesting site, which was an artificially built sand mould, where the birds build their nests. Visitors can walk through a tunnel at the back and see what's going on inside the nests through a glass wall, which makes up the rear side of the mould.A kiddies area includes a feeding paddock where birdseed purchased could be given to the semi- tame ducks and gulls.
Of course departure, as in most good visitor centres, was through a well-stocked souvenir and accessory shop, which had a wide collection of good bird books, cameras, tripods and binoculars plus the usual array of stuffed toys and other knick-knack's.
We finished our tour with a late lunch of traditional 'fish 'n chips' at the centre's well stocked restaurant. With the sun making an unusual appearance for a mid-November day in London, the demand for the wooden seating out in the open overlooking one of the water ways was high.
As I sat thinking back of what I had just experienced, I felt sad. In the centre of highly developed buildings and skyscrapers,in a rather cold and gloomy city,a veritable oasis of a thriving eco system had been created, from virtually nothing, where the general public could come and enjoy nature at leisure with their families. Back in Sri Lanka we have such natural wonderful eco systems strewn around the country, some almost in our backyards, such as Attidiya and the Pelawatte.
Not only have we done virtually nothing to develop them, we sit back and watch the environmental degradation, wanton destruction andl arge scale pollution taking place, slowly choking the life out of these magnificent natural areas.