Borneo Exotics, the Sri Lanka based company, won three awards at the World Orchid Exhibition in Singapore recently. The World Orchid Exhibition is a big event held every three years. "Many dignitaries and celebrities visited the show among whom we met Sir Elton John," said Robert Cantley, Managing Director of Borneo Exotics.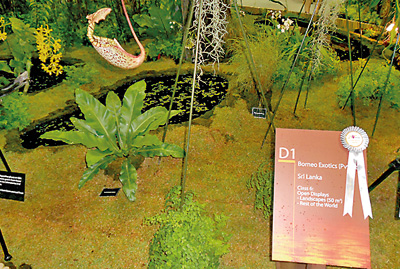 A part of the exhibit that shows the award too
Borneo Exotics, specializing in the cultivation of Nepenthes, has won gold medals at their last four appearances at the prestigious Chelsea Flower Show in London. "Although we are not orchid producers we were participated at this exhibition by special invitation and were actually surprised to win a silver medal for our display," said Mr. Cantley. "We did put orchids also in the exhibition and were very pleased that two of them won 2nd and 3rd Best in Show for the Ascondia genus of the orchid.
The display that won the silver medal, was 50 sq. m., which is twice the size of their usual Chelsea exhibit, Mr. Cantley said. He added that Borneo Exotics has won the only government contract to supply nearly 10,000 large specimens of Nepenthes plants, to the huge gardens by the Bay Greenhouses in Singapore.
"As a result of our success at this show and other shows, we are expanding our infrastructure and are seeking investors," Robert Cantley said. "We would like to thank the Sri Lankan Government Departments, without which this would never have been possible. We get excellent co-operation from the Department of Agriculture and Wildlife Department in particular as well as customs, BOI and others."
Mr. Cantley is also grateful to the staff of Borneo Exotics whose dedication he says is remarkable. He says he has been asked many times over the past week why he chose to set up in Sri Lanka. "Take a close look at that exhibit and our list of awards over the past years and you will know the reply to that question," he says, adding, "We are proud to do our bit to help fly the flag for our adopted country
Sri Lanka."