They hear the screeching and the jabbering long before the invaders strike in the morning, leaving most home gardens desolate and the fruit trees bare at Madarangoda, off Kadugannawa. The rilaw come, they destroy everything around and also become aggressive if anyone tries to chase them off, the Sunday Times learns from residents.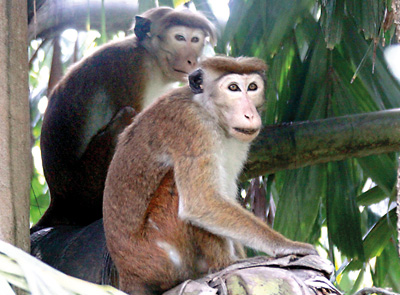 A once peaceful village now invaded by monkeys
Ammala, Thaththala, Pataw, okkammala enawa, says D.G. Munasinghe, explaining that mothers, fathers and children all come to the area. The problem began in earnest about six months ago, it is understood, when a troop of about 30-50 descended on this once-peaceful neighbourhood.
They not only destroy the plants in the area but also jump on the roofing sheets cracking them and steal the clothes hung out to dry, says Mr. Munasinghe, pointing out that if someone attempts to chase them, they growl and show their teeth in attack mode.
Those days the area didn't have any rilaw, according to him, but in recent times several had been collected from Kandy and brought in cages and released in this area, he says, while the people gathered around us shake their heads in frustration at their inability to get any official action or do "something" themselves.
Lamenting that the young kurumba and coconut trees in her garden have been stripped of their leaves, the same fate awaits the banana trees, a resident says. A similar fate has befallen the Kadugannawa District Hospital where a non-governmental organization, NetWater had donated a rainwater-harvesting tank with pipes leading from the roof to fill the tank during the rains.
The rilaw have a jolly time, swinging on the pipes and breaking them. They did it not once but twice, says Lalith Senaratne of the Pilimatalawa Lions Club, adding that in desperation the pipes had to be held down tightly by putting iron brackets at an extra cost.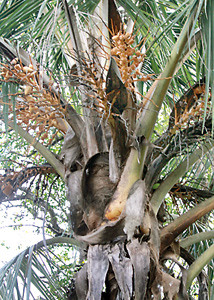 Stripped coconut trees. Pix by M.A. Pushpa Kumara
They also go into the schools, particularly an older one, whom the children think is "pissu". It mocks and attempts to attack us, says eight-year-old Heshan of the Kadugannawa Kanishta Vidyalaya, while his grandmother, Chandra Munasinghe says that when her daughter attempted to chase away the rilaw from their home-garden, one fellow lobbed a kurumba at her.
What is the point of all the campaigns for 'Api Wawamu, Rata Nagamu' when no one is doing anything about these rilaw who have become not only pests but also a danger, she adds.
What to do says UC chairman
Monawa kiyannada, monawa karannadda, said Kadugannawa Urban Council Chairman S.K. Abeysiriwardene, when contacted by the Sunday Times, explaining what can be said or what can be done.
This rilaw issue was brought to the notice of Central Province Governor, Tikiri Kobbekaduwa, he said.
No one has told me anything about this or complained to me, reiterated Mr. Kobbekaduwa, stressing that it was the duty of the newly-elected UC Chairman to sort out the matter.
About two years ago, some rilaw were moved from Udawattekelle, but that action failed miserably when they returned, pointed out Mr. Kobbekaduwa.