Somalatha Subasinghe is a name irrevocably woven into children's and youth theatre, and also the mainstream theatre of Sri Lanka. Gamini Haththotuwegama, the veteran street-theatre artiste, mentions her in one of his articles as 'the leading female versatilist in the theatre - actress, playwright, directress and the theatre educationist - in the post-colonial theatre.'
In recognition of her contribution to the theatre, she was conferred the title of Kalasoori and later the Kalakeerthi . Her later years have been dedicated to revolutionising children's and youth theatre. With her intuitive understanding of the mind of a child, her compassion for children and the knowledge of theatre gathered through education as well as experience, she has gifted the children of Sri Lanka with many beautiful creations that speak to the innermost soul of a child.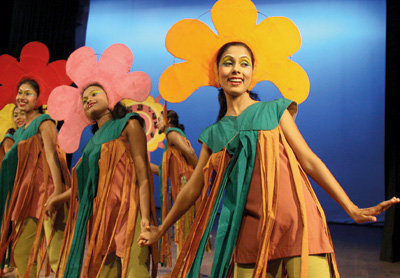 A scene from the play 'Punchi Apata Den Therei' and bottom left, from Thoppi Velenda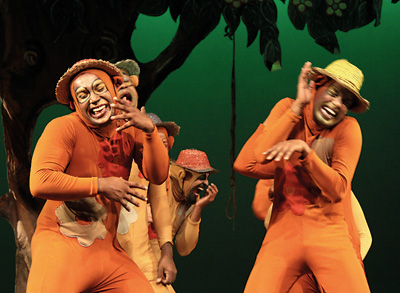 Participating in Prof. Sarachchandra's experimental productions as a young undergraduate marked the beginning of her illustrious career. She was one of the first female stage artists of Sri Lanka. She then went on to explore her performing prowess under many acclaimed directors. She put forth an explosive performance playing the character of Sara in Mudu Puththu, Gunasena Galappaththi's adaptation of Garcia Lorca's Yerma. She also made her mark in Sinhala cinema, securing many awards.
She was nationally honoured for her roles in highly acclaimed film productions, such as Viragaya. She wrote and directed many stage plays, and won the Best Director and Best Translated Production awards for the stage play Yadam and Best Director award for the play Antegone, at State Drama Festivals.
Joining the Ministry of Education in 1962 as a graduate teacher, she held several positions in committees, initiating the inclusion of aesthetics, drama and theatre in primary and secondary school curriculums, for thirteen years. She also had a hand in designing the syllabus for Drama for Advanced Level students. For another five years she worked with the Education Ministry, directing and producing plays with school children of all ages, and conducted sessions in Drama for children.
She conducted seminars and workshops for teachers in theatre, and produced radio programmes for young children and youth. She also has 20 years of experience teaching Drama and Theatre for beginners and advanced students. She is now a visiting lecturer in Theatre Direction and Script Writing for undergraduates at Sri Palee Campus of the University of Colombo.
It can safely be said that her best bequest to the children of our country is the Lanka Children's and Youth Theatre Foundation or LCYTF, better known as the Play House - Kotte, which she established in 1981. Over the years, under her direction, LCYTF has produced a repertoire of internationally acclaimed, mainly musical theatre for children and youth, and award-winning mainstream theatre productions. Her maiden direction in LYCTF, Vikurthi (Distortion), introduced new trends to the Sinhala Theatre and effectively delivered socio-political critique on the inadequacies of the existing education system to bring about a generation of balanced human beings. Vikurthi is acclaimed as a landmark of the modern Sinhala Theatre.
Mrs.Subasinghe's success in the field of children's and youth theatre is undoubtedly due to her understanding of the magic of childhood. Her children's plays invite children to kindle and explore their imagination. She is a firm believer in letting children bloom in their own time, easily, gently and freely. Her vision is to educate and nurture the children and youth through the medium of theatre to be humane and compassionate beings.
Honouring a 'versatilist'
This December, Somalatha Subasinghe, now 75, celebrates more than half a decade of unparalleled contribution to theatre.
To honour her, the LYCTF will be presenting a Colombo Theatre Festival for Young Audiences at the Lionel Wendt.
Since its inception in 2005, the Festival had been a platform to showcase theatre for children and youth every year.
This year the Festival will feature three children's plays written and directed by Mrs. Subasinghe: Hima Kumariya, an adaptation of Snow White, on December 7 and 8 and Punchi Apata Den Therei (We Know It Now) and Thoppi Velenda (Hat Seller) on December 9, at 3.30 p.m. and 6.30 p.m.