On October 14, eight girls and three young men from Chettikulam began a three-month on-the-job training stint at the 'Windows 4 U' construction firm at Temple Burg Industrial Zone, Panagoda.
In Sri Lanka's post-conflict era, construction plays an important role; construction of not only buildings, but also of lasting relationships among diverse ethnic and religious groups.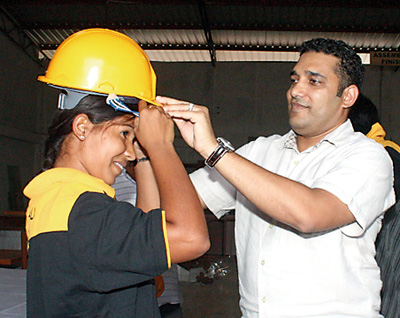 Ready for the challenge with helmet and all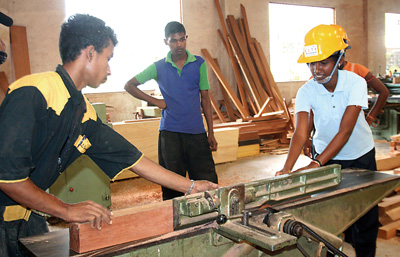 A trainer showing the way
Add to that breaking gender stereotypes and building female participation in the male-dominated construction industry.
The Chamber of Construction Industry (CCI) Sri Lanka looks to encompass all of these by giving young people from the North training in masonry, building carpentry, plumbing and electrical work.
"This project is part of our work in relation to Corporate Social Responsibility," explained Head of Operations, CCI Ananda Weerasekara, adding that this project launched in August was also started as there is a shortage of craftsmen in the industry. The aim is to develop regional contractors by providing qualified craftsmen.
Interestingly, they encourage female participation. "Construction is not only for males," stresses Mr. Weerasekara adding that however the numbers of girls amounts to less than 10 percent. There are 15 girls out of the 60 trainees at the Chettikulam training centre.
"We are an example to the other girls to join the construction industry," said Radika Rasendram, 22, from Chettikulam. Hoping to become an engineer, she says the programme is a source of encouragement to them.
There are seven training centres in the Northern areas, five in Tamil-speaking areas and two in Sinhalese areas (Vavuniya North and Kebithigollawa). This project is mainly funded by the CCI while USAID bears forty percent of the cost. While the trainees receive on-the-job training, their security, accommodation and food too are provided for.
The training is in two stages. During the first three months training in masonry, building carpentry, plumbing and electrical work is provided in villages for a maximum of 60 trainees per batch.
"We take the training programme to their doorstep by conducting the training in churches, temples and community centres in the villages," said Mr. Weerasekara.
A MOU is signed with the owners of the buildings for three years. However, depending on the demand in the areas, this can be extended or wrapped up much earlier. Once the demand in an area is fulfilled, the training centre is shifted to another area.
The second segment consists of three months on the job training at reputed construction companies. The trainees can chose construction companies in the North or move to the South or Colombo for this phase.
However, there are limited opportunities in the North as there are only two main construction companies in the region, namely, Ramanathan and Company in Vavuniya and Euroille Engineers and Contractors in Jaffna.
Sinhalese trainees are encouraged to go to Tamil areas and the Tamil trainees are encouraged to go to Sinhala areas. "I chose to come to Colombo as it is a good opportunity to learn Sinhala," said S. Jerad aged 21. Jerad and V. Kobian from Mannar, both working for Chance Engineering said that they are very well taken care of and that they have learnt a lot.
The project also hopes to be sustainable as the trainees can find jobs in the companies where they receive their training. "We hope to continue working for the same company or anywhere else where we get work," said Kobian.
"This is a fitting example of building a good bridge to nurture the North South relationship, as well as open the doors of the construction industry to women by involving them too in large scale construction projects," enthused Mr. Weerasekara. Nineteen-year-old Mohanaranjini Sivalingam from Chettikulam echoes Mr. Weerasekara's words. "We are an example to other girls who, seeing us will be motivated to join this industry," she said enthusiastically.