Residents of Kalawila, in the Beruwala Pradeshiya Sabha are up in arms over the shoddy workmanship in the construction of the road between the Kalawila Sri Sudharshanarama Viharaya and the main road.
The residents alleged low quality material was being used by the contractor.
Prasanna Sanjeewa, Chairman of the Beruwala Pradeshiya Sabha, said construction was being done hastily and low quality material was being used to the concrete road. He said "around Rs.1.5 million had been allocated to develop this road, but warned the road would soon be in a dilapidated condition if this type of shoddy work continued". He called on the authorities to monitor development projects handed over to private contractors.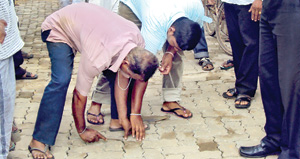 Members of the public examining the new road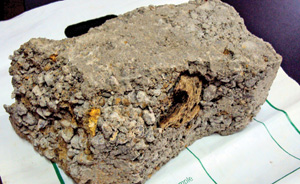 An example of low quality material used in constructing the road.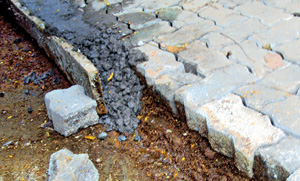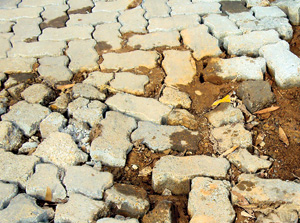 Shoddy workmanship: Sections of the road have not been lined leading to the flagstones shifting when vehicles travel on them as seen in the picture on the right.