At least 19 persons were confirmed dead, another 30 missing, some 1,200 houses damaged and nearly 6,000 persons displaced, as gale-force winds and floods triggered by torrential rains lashed several parts of the country this week.
The worst affected were the coastal towns of Galle and Matara, where some 12 people were reported killed and some 30 more missing, mainly fishermen, as a gale-force storm hit the coast without warning, early Friday.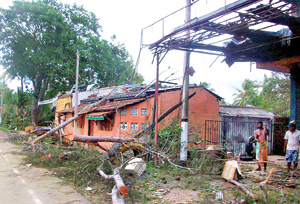 Matara: Destroyed roofs and houses. Pic by Krishan Jeewaka Jayaruk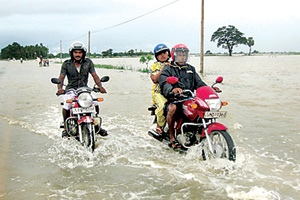 Ampara: Motorcyclists make their way through flooded roads.
The security forces, along with the police, were pressed into rescue efforts in the two affected towns, as a dusk-to-dawn search operation was conducted in the seas to trace the missing fishermen, who are largely believed to be dead, according to officials.
The storm, packing winds up to 70 km per hour, hit the southern coast late Thursday without any warning, catching people unawares and trapping scores of fishermen out at sea. The final count in the southern carnage yesterday put damaged houses at 1,010, and those affected at 120 families or 5,505 persons, Disaster Management Centre (DMC) Additional Director Pradeep Kodippilli told the Sunday Times.
He said concerted efforts were currently under way to assist the affected persons, and clear roads blocked by fallen trees, creating traffic chaos. Knocked down power lines led to a blackout mainly in the Matara area, which, however, was restored early yesterday, Mr. Kodippilli said.
"As of now, no persons has been directly displaced, as most of them are living with friends and relatives. The worst affected area was Weligama, an open stretch situated on the Matara coast," he said. In addition, another 12 persons are known to have drowned in swirling floodwaters in other areas of the country, Mr. Kodippilli further said.
The deaths were reported from Anuradhapura, Ampara, Moneragala, Badulla, and Thantirimale, he said.
Most of the victims were swept away by raging floodwaters, while trying to cross streams and rivers in those areas. Consequently, the authorities began opening several sluice gates to ease swollen irrigation tanks that were close to bursting point, he said.
The inclement weather that also spread to the hill country, left 34 families displaced at Abagamuwa village in the Nuwara Eliya Division, owing to landslide threats, he added.The wet weather also left several roads inundated and impassable in the north and east as well, he said.
The displaced were currently being housed at a government school and provided with cooked meals and other relief items from local officials, Mr. Kodippilli said. In a related development, the Fisheries Ministry has called for a report from the Department of Meteorology, after it failed to pass on an early warning on the impending storm in the south that has left so many dead and scores missing without a trace.
Fisheries Secretary, Dr. Damitha de Soysa said that the weather official had given the all clear on its latest update just hours before the storm struck the southern coast, causing mayhem and loss of life.
"This should never have been the case, an early warning would have helped save many lives", she said.
Navy officials too echoed their statement, saying that, they too were kept in the dark of the weather conditions on that day.
"Such was the rough condition of the sea on Friday that, even Navy vessels could not be deployed in any search operation. We had to wait for the following day to commence search and rescue operations", one senior official said.
He added that, as of late evening yesterday, the Navy, which has deployed two Fast Attack Craft (FACs) for the operation, was yet to spot any survivors or bodies.