The Dole Lanka banana farm that was set up on land belonging to the Somawathiya National Park (SNP), has been dismantled. According to sources, farm machinery has been removed, and young banana trees cleared from a 500 acre area on the east bank of the Mahaweli River. The farm had extended outside the Kandakaduwa Farm area leased to the company.
The Somawathie National Park covers land drained by the Mahaweli, in the North Central and Eastern Provinces. The decision by owners Dole Lanka Pvt Ltd to shut down the farm marks a victory for conservationists, who had lobbied intensely to have the land cleared of illegal encroachment. The farm came to public notice when environment organisations, supported by the media, including the Sunday Times, highlighted the encroachment.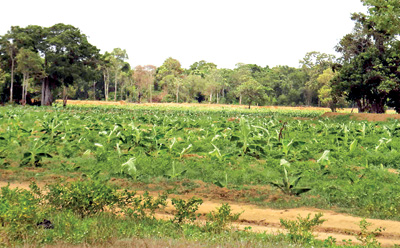 Young banana plants that have now been removed by the The Dole Lanka banana farm Company
While the Department of Wildlife Conservation (DWC) and the Ministry of Agrarian Services and Wildlife maintained that park land had not been encroached upon, activists and conservationists produced World Wildlife Fund (WWF) satellite images to prove that the disputed area occupied by the banana farm did indeed extend into the national park.
"We are extremely pleased with the turn of events and the prompt manner in which Dole has acted in this instance, which we trust will serve as an example to other organisations that are presented with evidence of infringements in law governing public assets," said Wardani Karunaratne of Environmental Foundation Limited (EFL).
EFL had lobbied directly with Dole Food Inc. EFL is affiliated to the Wildlife and Nature protection Society (WNPS); Wilderness Area Protection Foundation (WAPF), and other conservationist groups. All were concerned about the unauthorised clearing of forest land within the national park.
In September, EFL and other conservationists had met a Dole Asia representative and presented their case. After conducting its own investigation, Dole Asia acknowledged that the cultivated area was within park premises. On November 16, Dole Asia confirmed that all banana farm operations had been withdrawn from the area.
According to environmentalist Sajeewa Chamikara, the farm should be outside the one-mile buffer zone around the Somawathie National Park. This is a legal requirement, under the Flora and Fauna Ordinance.
While praising the Dole Food Company for showing responsibility and responding accordingly, Mr. Chamikara said there was a danger that other commercial interests may be eyeing the abandoned lands, and that vigilance was required.
The conservation community of Sri Lanka has appealed to all investors to first conduct studies on the legality and environmental sustainability of any business moves that involved use of land around the country, especially forest land.