Dematagoda Traders Association President Lalith Kumara left home with his friend Manoj around 5.30 a.m. on Monday to buy fish at the Peliyagoda fish market—a daily chore, for this wholesale businessman.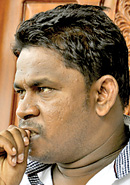 Lalith Kumara
But that day, while driving down Baseline Road in his van, Lalith Kumara was signalled down by a passing vehicle near Urugodawatte. When he stopped the vehicle, four men clad in military type uniforms got off a white van, dragged him out of his vehicle, blindfolded him before bundling him into their vehicle and driving away.
Recounting his almost 15-hour ordeal to The Sunday Times, he said, he was repeatedly beaten by his abductors and questioned about a notorious underworld figure in the area. "Once I was inside the vehicle I was driven around for about an hour before they stopped and started beating me.
They wanted to know whether I was Dematagoda Chandiya and they kept on beating me till 10 in the night before they let me go. The Rs. 60, 000 that I had with me to buy fish they took along with my gold bracelet," Lalith Kumara said.
He said he was abandoned on the roadside close to Seeduwa around 10.30 p.m. blind folded and hands tied behind. "I managed to get the help of a three wheeler driver who agreed to take me home and when I got home it was close to midnight," he said. The next day he lodged a complaint with the Grandpass police. Lalith Kumara believes that his abduction would have been instigated by his business rivals.
His abduction led to protests at the Dematagoda junction among those engaged in the fish trade, with shop owners putting up shutters. Police are still investigating.