Upandha Udalagama attends the Overseas School of Colombo which follows the International Baccalaureate (IB) system that develops an individual's mind to "go over and beyond." Her 'Personal Project', a requirement in the 10th Grade saw her focusing on 'Community and Service,' with emphasis on health and medicine.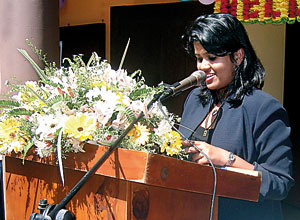 Upandha speaking at the opening
"As a 16-year-old living in a population of 20 million in Sri Lanka, I had a need, " she says, quoting from Ruth Stafford Peale who said, "Find a need and fill it….' Identifying the need for people to receive adequate medical attention in their own villages, she located a dilapidated medical centre in the village of Nithulemada, close to the Victoria Golf Club in Digana, in the Teldeniya Pradeshiya Sabha. Nithulemada is 15 kilometres from Kandy and is a hamlet with 200 multi-ethnic low income families. This clinic was constructed in 2006 by homeowners in the Victoria Golf Club and Country Resort in Digana.
Realising that the villagers had to travel to the adjoining village with much difficulty for medical assistance, Upandha with her parents' support and assistance and encouragement from the Governor Central Province, Central Province Ministry of Health, the Victoria Golf Club and the Rotary Club of Kandy Heritage, managed to get the old building renovated. It is now fitted with the necessary medical apparatus and children's play equipment such as mat slides, and other items which will benefit the community.
On October 19, amidst a gathering of villagers, the clinic was opened and Upandha speaking in Sinhalese, Tamil and English thanked all who had helped her.
She said she was glad that this small project 'will grow' to help improve the healthcare of the villagers, and hopes that it will be a continuous service with a full-time Doctor in charge soon.