The fingers that once pulled the trigger of a T 56 are today strumming the guitar, replacing the deafening noise of gunfire and explosions with the harmony of music. 'Friends of Peace', the world's first musical group made up of rehabilitated terrorists, aspires to take a message of "peace and reconciliation" to all corners of Sri Lanka, and may be even, the world.
"I never thought I would get an opportunity like this. I am very thankful," said Kalumugan (38), the octapad player of the band. The sounds of gunfire and the lament of war was what they had been born into. The war that wreaked terror on both sides of the battle line for almost their entire lifetime had robbed them of the opportunity to happiness, expression and the ability to create something they can call their own.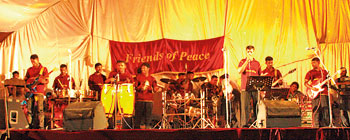 The group performing. Pix by Indika Handuwela
Today undergoing rehabilitation at the Welikanda Protective Accommodation and Rehabilitation Centre in Polonnaruwa, they have chosen to leave their bitter past behind, and are working side by side with the Sri Lankan Army officials, learning skills and receiving training in many fields including agriculture, masonry, handicrafts, carpentry and house wiring to help them reintegrate into society.
'Friends of Peace' performed their debut show on October 24 at the Campbell Park Grounds following a football match organized by the Ministry of Rehabilitation and Prisoner Reforms. 'Rehabilitation and New Life' was a bilingual original song 'Friends of Peace' performed that night. They also presented a song about the sovereignty of Sri Lanka and a moving Tamil song about the universal symbol of love, mother.
It was the power of music to heal and unite that brought together these 25 young men who had "music hidden in them". Selected from among hundreds at the Welikanda rehabilitation centre, 'Friends of Peace' was formed under the guidance of Brigadier K.W. Y. Jayathilaka, the Coordinator to the East for the Bureau of the Commissioner General of Rehabilitation, Ministry of Rehabilitation and Prisoner Reforms. A musician himself, he was the driving force behind this initiative.
When they started off about five months ago, they had had no prior training in music and musical instruments were alien to them. "I didn't think we would able to do it at first," said Lt. H.D. S. S. Perera, the Army Band Master who was chosen to be their instructor.
Even though Lt. Perera had trained many musicians and bands before, they had all come to him with a sound knowledge of music. This group, were not only oblivious to the basics of music, but also weak in their Sinhalese, making communication a problem.
"They didn't even know to which side a guitar should be held," Lt. Perera remembers. "But after a couple of weeks we began to understand each other. Most of them still couldn't speak Sinhalese and I couldn't speak Tamil but we learnt to communicate and I understood what they were trying to tell me," he said.
"Now I'm learning both Sinhalese language and music," says Sinnathambi , 23.
Within a few short months 'Friends of Peace' has come to a level that they can be placed alongside any average band in Sri Lanka, said Lt. Perera with justifiable pride. "The reason behind this miracle is their dedication," he says describing how the band members voluntarily practise from eight in the morning until ten or eleven o'clock in the night.
This is a group of extremely talented young men and I hope to see them achieve greatness, he adds. "They have very good memories and if I teach them a song they will learn it and play it perfectly. They choose songs, both Sinhalese and Tamil, and come to me asking me to teach them the music. Even if they do not understand the Sinhalese lyrics, they do their best to sing with perfect pronunciation."
The band's vocalist 30-year-old Nanda Kumara sings in both Sinhala and Tamil. "We have to go and play music to Sinhalese people. We want to show them that we are doing well now," said Sinnathambi. "In music, there is no difference between Sinhalese and Tamil," adds Kalumugan.
Nanda Kumara said they hope to continue the band in the future, even after they leave the rehabilitation centre. "The only obstacle we're facing is the lack of instruments and equipment. The few pieces we have belong to the centre and we cannot use them after we finish our programme." Sivanandan, 31 agrees with Nanda Kumara adding that they could "get into the game without fear" if they had the necessary instruments and equipment.
Sivanandan is the band's sound engineer. Having developed his knowledge from his prior experience of repairing sound systems, he handles the technicalities backstage. "Sound engineering will be difficult for someone who does not know the subject, but I find it easy now," he says confidently.
There are no such musical groups in the North in areas like Kilinochchi and Mannnar, and Friends of Peace are hopeful they will be able to make a big difference. There are many others at Welikanda Rehabilitation Centre who are inspired by the achievements of the band and want to learn music, said Lt. Col. (Retd.) Modestus Fernando, Deputy Commissioner General of Rehabilitation.
Our vision is to spread peace through music, said Major General Chandana Rajaguru, Commissioner General of Rehabilitation. "Once they are reintegrated into society they can use the band for a living," he adds. They have observed a "fabulous change" in them, he adds. "Music helps transform them and eradicate their negative identity," added Mr. Fernando.
Commenting on the revolution these young men have undergone over the last few months, Lt. Perera said, "The public never see what goes on inside a rehabilitation camp. We want to share this experience with the world."