It's not breaking news that there is abject poverty on our doorsteps. But that abject poverty is not part of our reality either. In one part of town, teenagers sleep in their branded pyjamas dreaming of the latest Apple product while in another, their peers in shanties toss and turn through the sleepless night. Older children of poorer families are forced to stay home from school, hungry, looking after their younger siblings while there are those of others, happily skipping school to sleep off fatigue from a party the night before.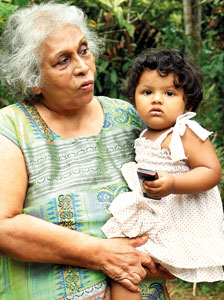 Founding Change: Mrs. Gunewardena carrying the project's little mascot Ayoshi. Pix by Indika Handuwala
Those poverty-stricken children lucky enough to attend school regularly quite often wear the same uniform every day of the week and are literally barefoot (not a fashion statement or your favourite hangout). In many village schools, a number of students faint each morning from lack of nourishment.
It is not a surprise that the majority of these students, not having the luxury of various avenues for higher education at the end of their credit cards, drop out of school soon after O-Levels and start looking for employment. Financial sustenance being a difficult thing to come by with no proper education, many turn to crime to provide for themselves and sometimes their families too.
It is easy to sit back and expect the state to deal with such issues, Gowri Kariyawasam, President of Business Professional Women (BPW) says, but also irresponsible, considering how deep-rooted and wide-spread they are. "If each and every organization within Sri Lanka undertook to focus part of their work on the future generation" she muses, awed at the implications, "how our prospects would improve!"
Just this September saw the initiation of Project Change, what BPW hopes will be a pilot project to translate this postulation to action. The organisation has recognized 2,000 children in the Hanwella area who need help, and are working to enlist 2,000 donors that will fund these kids' welfare. The programme will provide the children with school books, uniforms and shoes, as well as a supply of dry rations for the family. All it takes is Rs 12,000 a year, Gowri explains, adding that this breaks down into a mere Rs. 30 a day, a pittance really.
Mechanisms are already in place to make sure that these children get a glass of milk at school each week. Not only does this help improve the state of their health, it also directly impacts their educational development – not one of these children misses school on 'Milk Day' if they can help it.
Two weekends ago, 150 boy-scouts and girl-guides from schools in the Avissawella, Hanwella and Kosgama areas were brought together by the BPW, simply to have a good time at project chairperson and outgoing BPW president Janaki Gunewardena's home in Boralugoda. The house is spacious and welcoming, opening out at every possible window to a garden filled with the aroma of flowers and the sounds of birds chirping in the surrounding paddy and coconut plantations. "We have been given more than others in this world simply to share," Mrs. Gunewardena shrugs in her typical matter-of-fact way, "not to accumulate for ourselves!"
Alongside the village-school students at the Boralugoda house that weekend, and having just as much fun with them was an unexpected lot – students from the Elizabeth Moir School. Behind Project Change is an often missed recognition of the fact that more privileged children are not uncaring and selfish as often depicted, but simply unaware of the life conditions of their less fortunate neighbours. Mrs. Gunewardena remembers her life as a youngster growing up in Colombo in the 40s and 50s and that despite her grandparents and parents often bringing less fortunate people home to bathe and feed, she "never wondered about their tomorrow, how they would find their meal the next day". It was later in life that she began to see the importance of a more permanent solution to the problem. "We need to break that wall between the classes," she shares, a thought that will undoubtedly worry some, "otherwise we can't really change anything."
BPW hopes that providing continuing opportunities for young people from different economic backgrounds to mix and mingle will help start lasting friendships across cultural barriers. This in turn they believe will increase awareness and involvement of youth in welfare endeavours geared towards their less fortunate peers, not only making such projects more successful but also enriching lives and equipping them to be socially responsible adults. "We hope that some of these children at least will take it to their hearts to fulfil the need," Mrs. Gunewardena says.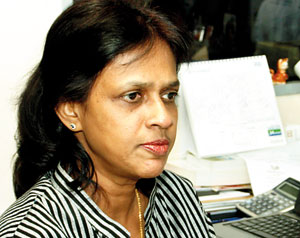 BPW President Gowri Kariyawasam
Squealing, giggling and running around in a dainty cotton dress at the Boralugoda house is Ayoshi Hapuaarachchi, the Project Change "mascot". "She's like my adopted grandchild," Mrs. Gunewardena smiles down on the baby, sharing the story of how her domestic helper, confessed one night that she couldn't afford to provide for the child in her womb. They made arrangements for the baby to be legally adopted at birth by another couple, but there were complications with the process, and it was decided that Mrs. Gunewardena would help bring her up instead. "Just because she was born into a poor family doesn't make her any less beautiful, intelligent or capable of contributing to the welfare of her country and people," she argues, "she deserves a decent life as much as any other child." As Ayoshi grew into the bouncy-bubbly one-year-old she now is, Mrs. Gunewardena came to realize the significance of the impact a single individual could make on a child's future, and Change was born.
Neither Mrs. Gunewardena nor Gowri Kariyawasam though, is interested in talking much about themselves or even their work. The thing is to see, hear, understand and do. Fifty metres from the main Avissawella highway and a right turn onto a concrete road lies Munamale, the first village that BPW will Change. The area seems decent as some of the houses even have plastered walls and children grin from ear to ear showing gaps in their teeth as one young fellow wobbles off his bicycle. But the illusion is quickly dispelled. A few hundred metres down and the road is simply a wide gravel path, on either side of which lie tiny dwellings, some of wattle and daub with thatch roofs, some of wooden planks and bits of concrete sheeting. By the time we arrive at homes that are mere shacks – metal frames covered with polythene and canvas – the road is too narrow and uneven to travel on and we are forced to turn back. "It gets worse," Mrs. Gunewardena explains, "I don't want to put you through that."
It is only a month since Change was initiated on September 21, and it is evident that BPW has jumped straight in the deep end. Gowri Kariyawasam is nevertheless convinced that this pilot project will spark nation-wide interest and involvement, really bringing about Change. It is most definitely not the first time an endeavour of this sort has been stepped into, but Change seems different in its bid to create links between the generations as well as economic classes – a radical move on their part. And though it is still a distinct group of people heading single-minded to achieve great things behind the scenes of Change, their aim is to get simply everyone involved.
"As long as you can talk or even just think, you've got to help where you can," Mrs. Gunewardena emphasizes, "you'd be surprised at how a little attention now can change a child's future." Most importantly though, BPW is aware of the individuality of each child that goes into the great mosaic that is the future of our country: "Change Sri Lanka, One Child at a Time".