The day Ameena Ishees gave birth to twins, an adorable baby girl and a baby boy, she and her husband M.M.M. Rizwan were overjoyed. But their happiness did not last long.
The birth had been premature and a few days later the babies' skin began to turn yellow. Within two weeks the fits began, said Ameena. Every day the babies had 50 to 60 fits, and they were hospitalised for four months at the Karapitiya Hospital. They were given three types of medicine but the fits could not be stopped, says Ameena. The babies were then taken to the Lady Ridgeway Hospital where they received further treatment for another two months. "We tried many treatments but the babies continued to have fits," said Ameena.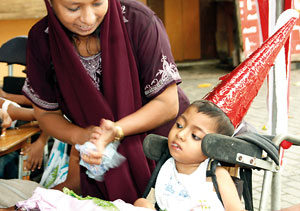 Ameena with little Haseena
The doctors carried out various tests including liver and spinal fluid tests and MRI scans, but the cause for the constant fits remained unknown, explained Ameena. Urine samples were sent to India and the reports were then sent to Australia for further examination, but doctors still could not diagnose the medical condition of the twins, which Ameena said was the first such reported case in the Galle district. Ameena and Rizwan lost their son when he was only nine months old.
Their daughter, M.R. A. Haseena, who is now three and half years old, has been receiving treatment from Dr. Saraji Wijesekara for the last six months and Haseena is at last showing signs of improvement.
However, the fits she had throughout her infancy have robbed little Haseena of her motor skills. "She can't sit. She can't see. She can't speak. She can't keep her neck straight," said Ameena, her voice filled with sadness.
For the past two years Haseena has been taking part in a programme conducted by ECSAT, an organisation that helps children with disabilities. A teacher visits her home and engages her in activities like singing, playing and handwork, said Haseena, adding that her daughter is now responding to touch and listening to songs and voices. "She even tries to talk," said Ameena. "We were crying at heart but now we see her develop and we're very happy," she said her eyes full of hope.
But Haseena's condition is not the only problem that wrenches Ameena's heart. Their home in Dangedara, Galle, is situated in an area prone to flooding.
"We wrote about our plight to the President and we were provided with two rooms to our house. Habitat for Humanity also came forward to help us and built a toilet and bathroom for our house. We moved to our new house a month ago," said Ameena.
Haseena's medicines alone cost about Rs.5000 per month. Haseena also has an older brother, Azry (6), and the expenses are difficult, said Ameena. Her husband Rizwan works in a shop and can only come to visit his family once a month, and she must take care of her children single-handedly.
Haseena requires a special wheelchair that will give support to her back and neck.
"We would be very thankful to anyone who can come forward to help us," said Ameena. She can be contacted on 077-9325568 or at her residence at 81/25, F3, H.K. Edmund Mw, Appaladuwa, Moragoda, Dangedara, Galle.