He enters as a 40-year-old but leaves as an 80-year-old. This is the devastating image of a stroke victim who enters a normal medical ward that Neurologist Tissa Wijeratne paints graphically to drive home the point that the management of "brain attacks" should be carried out in a Stroke Unit under a vital multidisciplinary team.
Commending the huge efforts of the "Stroke Champion and Pioneer" in Sri Lanka, Consultant Neurologist Dr. Padma Gunaratne and her dedicated peer Neurologists and health-care personnel, Dr. Wijeratne who is currently working in Australia stresses the need to support their efforts across the country.
He cites just one of many examples that he had come across in Sri Lanka when he visited his home country recently, to give weight to his argument.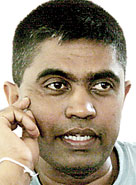 Dr. Wijeratne
A 44-year-old monk, not only very influential in his area but also a social worker, had suffered a stroke and had been rushed to an important General Hospital. A diabetic, he had also had hypertension and sadly three years before he had suffered the first stroke and a year after that a mini-stroke (Transient ischaemic attack– TIA). Both times he had been taken to the same hospital but not having a Stroke Unit, he had been treated in a medical ward and discharged, only to suffer a full-blown stroke which hit the left side of his brain.
If he was treated at a Stroke Unit, he would have been advised to change his sedentary lifestyle, control his diet and come for another check up before he was felled by the second stroke which has now left him paralysed on his right side as well as unable to speak, points out Dr. Wijeratne who knows well about the "burning issue" of strokes. Stroke Units help cut down stroke deaths as well as reduce disability.
The first stroke which was the "index event" should have been a warning which would have been identified immediately at a Stroke Unit and treated, reducing the chance of getting the second stroke by 80%, he says, pointing out that "it is in everybody's best interest to promote better brain health".
Very willing to share not only his knowledge but also provide much support to help set up Stroke Units in Sri Lanka, he comes with the experience of launching a stroke services development unit about five years ago in Footscary, Victoria. He is currently managing the Stroke Unit and Neuroscience Research Unit as its Director while also being a Senior Lecturer in Medicine, Western Health & University of Melbourne.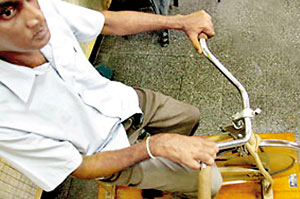 Rehabilitation at the Stroke Unit of the NHSL.(file pic)
Explaining the slow but steady progress he made at Footscary, he says initially he had only a few beds and gradually built up the unit. After a year, he established TIA management programmes, which led to a remarkable saving in costs and time. "Before the unit was set up, it took nearly seven days to treat a patient with TIA but now it can be done in 24 hours," he says.
Coming back to the situation in Sri Lanka, Dr. Wijeratne points out that the problem is the excessive number of stroke patients who need immediate care. This needs to be addressed by the government urgently, he underscores, as only a mere 2% are getting access to proper health care.
If unnecessary spending is cut out, these funds could be channelled towards setting up essential Stroke Units. "Each major hospital should be managed in a geographically co-localized area, to reduce or have no risk at all of stroke incidents."Primary prevention is undoubtedly imperative, says Dr. Wijeratne, adding, however, that right now priority should be given to tertiary care. There is a need to increase the number of Neurologists, to urge the second level to take over and train as many as possible to cohesively address stroke emergence in this region.
His pleas echo and re-echo as World Stroke Day was celebrated yesterday– We cannot be complacent. Currently only 2% of stroke patients have access to proper medical care. What is the situation of the other 98% in Sri Lanka?
Stroke care: Developing countries need urgent attention
Sri Lanka had the signal honour of being the host of the inaugural conference of the Asia Pacific Stroke Organization (APSO) in September.
The first annual Asia Pacific Stroke Conference after the merger of the Asia Pacific Stroke Association and the Asian Stroke Federation in 2009 saw many views by world renowned figures including a team from the World Stroke Organization being discussed and debated among those passionate about preventing and treating stroke, the Sunday Times learns. The conference, co-chaired by Sri Lanka's Dr. Padma Gunaratne and Japan's Prof. Yukito Shinohara, was attended by more than 400 international delegates from 40 countries.
With the theme 'Stroke in Asia: Time for dignity and justice', special emphasis was on stroke in developing countries with regional variation and rehabilitation.
Sixteen million stroke incidences are reported worldwide every year of whom six million die, said Dr. Wijeratne, pointing out that once in every six seconds someone somewhere dies from a stroke.
Tragically nearly 80% of the strokes and stroke deaths occur in the developing world and given the fact that nearly 70% of the world's population lives in Asia, these occur in Asia, he said.
Reiterating that stroke incidences in the developed world are gradually decreasing, but rising in the developing world at an alarming rate, he points a finger at urbanization with more and more people changing their lifestyles. The daily salt intake and the consumption of fast food have surged the risk rate.
Almost two-thirds of the global stroke patients are in Asia. Therefore, APSO has to take the leading role in combating stroke, says Dr. Wijeratne, adding that there is also an urgent need to improve stroke care in the region and Sri Lanka in particular.
Stroke Unit at Diyatalawa shows the way
The figures are chilling. Anyone who has sufficient grey matter will take the danger signals seriously.
"Of every three of us, one would get a stroke or dementia which is a different kind of brain disorder," says this Neurologist quoting the Framingham study. In reality terms, he points out that one-third of the 225 Members of Parliament are at risk of a stroke or dementia during their lifetime and of the 20 million Sri Lankans, 6 million are at risk during their lifetime.
That is why Dr. Wijeratne has helped set up a Stroke Unit at Diyatalawa Hospital and is supporting Mahiyanganaya, Badulla and Wellawaya Hospitals to go in the same direction.
Currently, there are Stroke Units only at the Institute of Neurology of the National Hospital in Colombo and the Kurunegala Teaching Hospital, it is learnt. Unfortunately, only a percentage of stroke patients are able to access Stroke Unit care while many others are managed in the general medical wards which will not reduce disability or death in the same way as at a Stroke Unit, he says.
It is very important to support these two Stroke Units which will be the benchmark of stroke care in Sri Lanka, emphasizes Dr. Wijeratne, urging that Stroke Units should also be set up in other major hospitals.
He argues that we spend money to manage thousands of stroke patients in general medical units. Research in the west has shown that these stroke patients get a worse deal than managing them in their homes.
Referring to the three major hospitals of Ragama, Kandy and Karapitiya, he says that they are manned by excellent Neurologists who are not only known in the country but also in the region. The government should support them to set up stroke services.
"This does not mean spending huge amounts of money," says Dr. Wijeratne. "The need is lateral thinking and reorganization of resources to promote coordinated stroke care in a geographically co-localized area which will save lives and reduce disability. The leaders in these Stroke Units will also guide the primary prevention arm. It will ease the way for more and more stroke champions like Dr. Padma Gunaratne to be born, who in turn will work hard to reduce the first stroke through primary prevention.
Explaining that they will also work with other stakeholders such as the primary health care workforce and tertiary care champions in other fields including Cardiologists, Endocrinologists and Physicians, he points out that Stroke Units will be an ideal platform to fight the epidemic of non-communicable diseases to build a healthy Sri Lanka as society heads towards an ageing population.
Setting up Stroke Units is a win-win situation for the country, adds Dr. Wijeratne.
(Next: Stroke care situation in Sri Lanka)