SIRTE, Libya, Oct 1 (AFP) - Fighters for Libya's new rulers have been forced to regroup on the edge of Sirte, after pro-Gaddafi snipers halted a two-week old assault on the ousted despot's hometown.
And in Bani Walid, the only other stronghold of forces loyal to Muammar Gaddafi, the National Transitional Council's (NTC) fighters appeared to have opened another front on Friday.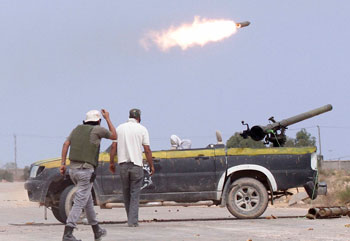 Anti-Gaddafi fighters watch a rocket being launched outside Sirte airport, about 2 km (1 mile) from the city centre on Friday. Reuters
As the fighting raged, Human Rights Watch called on the NTC to stop militia groups from making arbitrary arrests and abusing prisoners, including with beatings and electric shocks. The New York-based group said it had visited 20 detention facilities in Tripoli and interviewed 53 detainees.
"The detainees reported mistreatment in six facilities, including beatings and the use of electric shock, and some of them showed scars to support the claims. None had been brought before a judge," HRW said in a statement.
"After all that Libyans suffered in Gaddafi's jails, it's disheartening that some of the new authorities are subjecting detainees to arbitrary arrest and beatings today," Joe Stork, HRW's deputy Middle East and North Africa director, said in the statement.
As the NTC forces faced stiff resistance on the battlefield Friday, doubts grew that Gaddafi's vocal spokesman Mussa Ibrahim had been captured after reports he had been seized while disguised as a woman, complete with veil.
AFP correspondents on fronts east and west of Sirte said the former rebels had made no advances.
In the fiercest fighting for days, the NTC fighters pounded Sirte with 106mm anti-tank guns, rocket-launchers and machine guns, while Gaddafi loyalists hit back with mortar, machine-gun and sniper fire.
One NTC fighter was killed and 11 wounded, a medic said, as NATO warplanes and drones flew overhead without striking. NTC fighters held the line on the eastern outskirts of the city amid some sporadic artillery shelling and gunfire, an AFP correspondent said.
"If we want we can destroy Sirte completely. We have enough ammunition and shells to fight for 10 years," said Nasser Obeidi, leader of a group operating four Russian-built 130mm artillery cannon.
"But we are allowing civilians to leave the city before we start a big assault. People are leaving the city daily, sometimes in large numbers," he told AFP.
At least 15 civilian cars were seen leaving Sirte's eastern gate, while about 1,000 evacuees were registered 50 kilometres (30 miles) west of the city, NTC officials said, adding they were detained 15 suspected Gaddafi supporters.
In Benghazi, Red Cross official Abdelhamid al-Mendi said more than 50,000 Libyans have fled their homes since the war began in February. "The numbers of impressive, but the situation is under control, thanks to the efforts of the Libyan Red Crescent, aid from the international Red Cross" and other organisations.
Obeidi acknowledged, however, that Gaddafi forces had deployed snipers in the city which was troubling the fighters. But a former colonel in Gaddafi's army who is now an NTC fighter supervising cannon outside Sirte said his forces were determined to win.
Gaddafi diehards "are posing problems, but it won't be for long. Our 130mm cannon are targeting their stationery targets like military and administrative command centres and weapons depots inside Sirte," said Mahmud Muftah.