ISLAMABAD, Oct 1 (AFP) - A Pakistani court today found a police commando guilty of murder and sentenced him to death for killing a liberal governor who had urged reform of a blasphemy law, a defence lawyer said.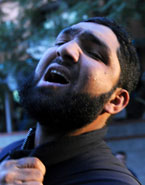 AFP file photo of Malik Mumtaz Hussain Qadri taken during a court visit.
Malik Mumtaz Hussain Qadri, one of Punjab governor Salman Taseer's bodyguards, was charged with terrorism and murdering the man he was supposed to be protecting on an Islamabad street on January 4 this year.
Qadri confessed to killing Taseer, saying he objected to the politician's calls to amend the blasphemy law, which mandates the death penalty for those convicted of defaming the Prophet Mohammed.
"The court has awarded my client with death. The court announced the death sentence for him," Shuja-ur-Rehman, one of Qadri's lawyers, told AFP by telephone.
Judge Prevez Ali Shah announced the verdict at an anti-terrorism court behind closed doors in the high-security Adiyala prison in Rawalpindi, the lawyer said. Dozens of people rallied outside the prison where the verdict was announced, chanting slogans in support of Qadri, an AFP photographer said.