Far from making your sight worse, it seems that time spent staring at a computer or iPhone screen could soon improve vision. A brain-training app that gives middle-aged people the eyesight of those ten years younger will be available to download within months, developers say.
They claim it can dramatically reduce the need for reading glasses in those who already wear them, as well as put off the day on which others need to invest in a pair. Trials of the GlassesOff software have produced startling results, with people able to read more than two lines further down an eye chart after training.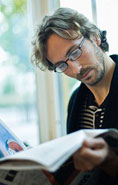 Easy Read: The GlassessOff app improves vision by training the brain to overcome ageing eyesight
In addition, the time taken to read the page of a newspaper more than halved, New Scientist journal reports. GlassesOff is expected to be launched early next year, initially as a smartphone app. A version for home computers could follow. It is said to combat presbyopia, or age-related long-sightedness. By 50, most adults are unable to read a menu, book or newspaper without holding it at arm's length.
The deterioration results from the stiffening of the eye's lens, which makes zooming in on close objects more difficult.
This means the brain receives blurred information which it then struggles to process. GlassesOff, developed by U.S. firm Ucansi, encourages the brain to make sense of this. People are first shown a grey screen containing a white circle, and then a number of images in quick succession at various places on the screen.
Some are blank, while others contain blurred patterns of lines, known as Gabor patches. The aim is to pick out any of the Gabor patches that fall in the same place as the white circle. The task gets faster and more difficult as the person gets better at it.
Volunteers with an average age of 51 who took part in 40 training sessions at the University of California, Berkley, found reading charts so much easier that their 'eye age' was said to have reduced from 50.5 to 41.9 years. They were also four seconds a sentence quicker at reading, a San Francisco conference heard.
Ucansi co-founder Uri Polat, of Tel Aviv University, said: 'We're using the brain as glasses. Every single change is in the brain.' The software is unlikely to do away with reading glasses. It may, however, reduce the amount of time people need to wear them.
The GlassesOff app is expected to cost around £60 for the first three months, during which customers are expected to train for 15 minutes, three times a week. After that, there will be a small monthly fee for less intensive 'maintenance' training.
Britons spend £2.7billion a year on optical products such as lenses and glasses.
© Daily Mail, London