LOS ANGELES, Oct. 1 (AFP) - Michael Jackson may have died up to an hour before emergency paramedics even arrived, and his doctor then lied about the star's condition and the key drug that killed him, a court heard on Friday.
Conrad Murray was also described as looking like a "deer in the headlights" when a paramedic surprised him in Jackson's bedroom, collecting items shortly after the seemingly-dead star was loaded into an ambulance at his LA mansion.
The doctor in charge of the emergency room at the UCLA Medical Center in Los Angeles recounted how she was ready to pronounce Jackson dead before he was even brought in, since efforts to resuscitate him had failed.
"When the paramedics arrived, the patient had no signs of life, was clinically dead... and the estimated time down was at least 40 minutes," said UCLA medic Richelle Cooper. "I made a determination based on that... to pronounce the patient dead in the field."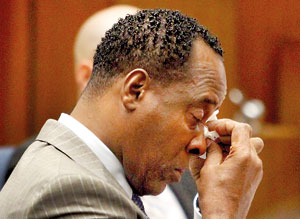 Conrad Murray wipes a tear during the defense opening arguments in his involuntary manslaughter trial in downtown Los Angeles, California Superior Court. AFP
The senior medic's testimony came at the end of the first week of Murray's manslaughter trial over the King of Pop's death on June 25, 2009, from an overdose of the powerful sedative propofol.
Murray could be jailed for up to four years over Jackson's death at his mansion in the plush Holmby Hills district of Los Angeles, where the star was rehearsing for a series of comeback shows in London.
Paramedic Richard Senneff recounted how a "frantic" Murray denied that Jackson had an underlying illness, and made no mention of propofol, or the severe insomnia or other conditions from which Jackson suffered.
Murray told them that Jackson was suffering only from exhaustion and dehydration and had been "down" since shortly before the paramedics arrived at 12:26 pm, five minutes after receiving a 911 call.
Senneff said that claim seemed strange given Jackson's condition, noting the fact that Jackson was hooked up to an intravenous drip, as well as an oxygen-supplying device attached to his nose and a condom catheter to his penis to relieve his bladder without having to get up to go to the bathroom.
"There were multiple observations... His skin was very cool to the touch... his eyes were open, they were dry and his pupils were dilated. When I hooked up the EKG (electrocardiography) machine, there was a flatline," he said.
Murray also told them that he had only given Jackson a small amount of lorazepam, a sedative. "He never mentioned the word propofol," said Senneff, referring to the drug blamed for the star's death at the age of 50.
The paramedics spent over half an hour trying to revive Jackson, using a combination of cardiopulmonary resuscitation, heart-reviving drugs and direct intubation to get air into his lungs. At 12:57 pm, doctors at the UCLA hospital said they were ready to pronounce Jackson dead, but Murray insisted they transport him to hospital to continue resuscitation efforts. Jackson was eventually pronounced dead at 2:26 pm.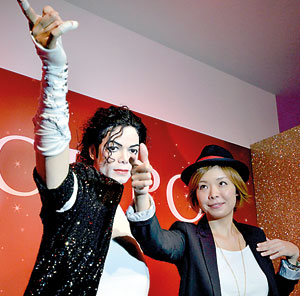 A Japanese visitor mimicks the wax figure of late US pop star Michael Jackson at a preview of the Madame Tussauds museum in Tokyo. AFP
Under cross-examination, Senneff confirmed he had estimated that Jackson could have gone into cardiac arrest -- his heart stopping -- anything from 20 minutes to an hour before the paramedics arrived.
The five-week trial opened on Tuesday, when prosecutors laid out their case that Murray was guilty of "gross negligence," while the doctor's lawyers said the star caused his own death by taking extra drugs without Murray's knowledge.
On the first day, jurors saw chilling images of Jackson's dead body on a gurney and heard a haunting audio recording of the heavily drugged singer talking on the phone only weeks before his death.
Bodyguard Alberto Alvarez said on Thursday that Murray ordered him to help remove vials and a saline bag from an intravenous drip stand by the star's bed, even before he had called 911 for emergency paramedics.
Senneff recounted an incident when, after Jackson's body was loaded into the ambulance, he returned to the bedroom to collect the paramedics' equipment to find Murray picking up items from the floor next to the bed.
"I had the impression he was surprised someone just walked in the room," he said, adding that he looked like a "deer in the headlights... He turned his head sideways to look at me and just (gave me a) blank look."