The world's oldest running car, an 1884 De Dion Bouton Et Trepardoux Dos-A-Dos Steam Runabout, has been put up for sale and is expected to fetch up to £1.6million when it is auctioned off early next month.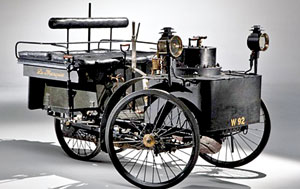 One of a kind: The 127-year-old motor is up for sale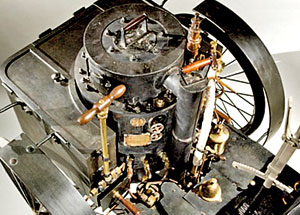 On the double: The twin compound steam engines power the vehicle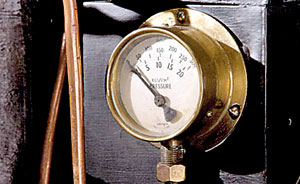 Under pressure: The car's gage to keep track of its full functionality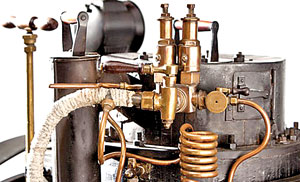 Steam roller: The solid front and rear axles with semi-elliptic springs
The 127-year-old steam-powered vehicle was commissioned for manufacture in France in 1881 for the Count De Dion, 12 years before Henry Ford assembled his first car.
Nicknamed 'La Marquise,' in a tribute to De Dion's own mother, it is only nine feet long and weighs 2,100 pounds (953 kg) and has a maximum speed of 38 miles per hour (61 kmph).
The car which takes 45 minutes to generate enough steam to drive, is powered by bits of paper, wood and coal. Whilst its thin metal wheels are wrapped with solid rubber.
Auction house founder David Goodling said: 'It feels like going 80 or 90 miles per hour in a newer automobile.
And, by newer, I mean 1910.' Expert motoring author David Burgess-Wise examined De Dion's creation in 1995 before quickly affirming its historic credentials as the oldest functioning motor.
One of the cars engineers Georges Bouton took part in the world's first motor car race, but was the only entrant!
Keen observers noted that he averaged a speed of 16mph (26 kmph) for the return event from Paris to Versailles and even reached 37mph (59.5 kmph) on the straight paths. Count De Dion held on to his prized asset until 1906, before finally selling it to French army officer Henri Doriol.
The Doriol family owned 'La Marquise' for 81 years but failed to get it running after it lost both copper and brass fittings following the war in 1914.
Having exchanged hands again in 1987, Tim Moore, a member of the British Veteran Car Club who had the car functioning again inside a year.
And having restored it to working order, Moore took part in several competitions in the vehicle, including four London-Brighton rides.
UNDER THE BONNET
127-year-old motor
Steam engine takes 45 minutes before its ready
Engine powered by paper, wood and coal
Maximum speed of 38mph (61 kmph)
Covers 20 miles (32km) on a tank of water
© Daily Mail, London