Joan Gideon Loten as Governor of Ceylon from 1752 to 1757, employed Pieter Cornelius de Bevere (1722 - he died before 1781) to compile a remarkable record of the natural history of Ceylon (Sri Lanka).
Images such as the one pictured here are an insight into the impact that Sri Lanka's rich biodiversity had on colonial visitors, and can be found under the section titled Recording a Tropical Eden at A Return to Sri Lanka: an exhibition of images of Sri Lanka from British Collections (1640 – 1900).
This exhibition draws maps, manuscripts, illustrations, early photographs and paintings of Sri Lanka from several distinguished British institutions —principally the British Library, the Victoria and Albert Museum and the Natural History Museum – as well as the National Museum (Colombo) to bring a selection of very rare material to a Sri Lankan audience for the first time.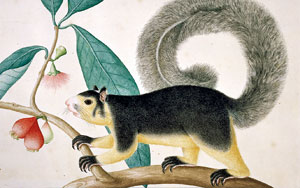 Pieter Cornelius De Bevere, Grizzled giant squirrel (Ratoufa macroura), 1754-57. NHM (The original artefact can be found in the Natural History Museum, UK.)
Co-curated by British and Sri Lankan curators, the exhibition is produced in partnership between the British Library and the British Council (Sri Lanka), with funding provided by the World Collection's Programme.
Having now completed its Colombo showing, the exhibition moves to Jaffna where it will be at the Jaffna Public Library from October 5 – 19. Later, it will be at the Kandy City Centre from October 24 – November 6 before its final showing in Galle at the Municipal Council, from November 11 – 24.
Admission is free and information is available in Sinhala, Tamil and English at all exhibition sites.
The Sunday Times is the print media sponsor for the exhibition