They are in the twilight years, having served not only their families but also their communities and the country itself. The current trend is for various people to spout out at different fora the inexorable fact that Sri Lanka has an ageing population. So what has anybody done about it?
Nothing much seems to be the reality. But someone seems to be thinking of the plight of the aged and has decided to turn talk into action. To the simple question what prompted the action in the form of a comprehensive book, and it is just Volume I, on 'Medicine in the Elderly', himself having the privilege of falling into that age-group, the answer seems obvious.
The sheer demographic status of our population, media reports highlighting the glaring instances of helpless and penniless old people without the basic wherewithal to exist either abandoned or shoved into old people's homes and the government and community not doing enough, is the immediate response of Professor Colvin Goonaratne who turned 73 on September 1.
All these people, be they farmers, labourers or doctors have contributed a lot, stresses Prof. Goonaratne, with a string of qualifications behind his name, who together with Dr. Achala Balasuriya decided to compile and edit a thick volume, as Prof. Harshalal Seneviratne puts in a nutshell "on an emerging area of medical care of national importance".
Astute Prof. Goonaratne, Registrar of the Ceylon Medical College Council and Founder Chairman of the Sri Lanka Clinical Trials Registry and Dr. Balasuriya, Consultant Physician of the Nuwara Eliya General Hospital have chosen the right topic at just the right time.
For, according to the figures, the "age pyramid" which is gradually turning into a barrel and graphs, all in black and white to strongly drive home the point in the book itself, Sri Lanka's "demographic transition is advanced and its rate is dramatic".
Explaining that elderly people have nothing when they cannot look after themselves, Prof. Goonaratne explains the factual status of senior citizens succinctly.......they get no priority treatment on a bus or even in a hospital.
We are ageing fast as a country
The facts and figures quoted in 'Medicine in the Elderly Volume I' clearly show the direction that Sri Lanka should take.
In Chapter 1 dealing with 'The demographic challenge', World Bank's Dr. Sundararajan Srinivasa Gopalan, Senior Health, Nutrition and Population Specialist, states that the Sri Lankan population's ageing is faster than in most countries.
A recent World Bank study itself the portrait of the ageing brings into focus:
The proportion of population over 60 years which was 9.2% in 2000 is expected to reach 28.5 by 2050.
The transition essentially comprises an increase in the older proportion as people live longer with life expectancy at birth having increased from 40 years in 1930 to 65 years in 1970 and 72 years by 1990.
The transition is also attributed to a decrease in the younger population, with the total fertility rate having declined from around 4.7 in 1970 to 1.9 in 2000.
The third reason attributed is the cascading effects of decrease through various age groups over time.
Interestingly, an unexpected increase in the fertility rate to 2.3 in 2006 –with one school of thought that it may be a "post-war baby boom" and another that it may be "partly" due to a recent clampdown on illegal abortions or exhortations of religious leaders against contraception may or may not represent a real trend.
This is why, Prof. Goonaratne who "by choice" decided to study geriatrics during two stints in the United Kingdom during his sabbaticals in the 1980s, teamed up with like-minded Dr. Balasuriya who has trained in geriatrics in Australia for two years and is now a Member of the Board of Study in Elderly Medicine and Rehabilitation of the Postgraduate Institute of Medicine (PGIM), University of Colombo.
Reality dawned on Prof. Goonaratne of the need for the healer itself to be guided on the healing process of the elderly, when during his "little private practice", a son brought his 78-year-old father to him, concerned that the old man was talking gibberish.
The family was worried that he had dementia, says Prof. Goonaratne adding, he was also not eating. Having taken him to different doctors who had dosed him with medication, this was the last resort.
A rectal examination resulted in the miracle cure. The old man had faecal impaction common among the elderly, a point missed by "normal specialists" without an inkling about geriatrics. An enema and Vitamin B 12 did the trick, he smiles.
The signs, the symptoms, the medication doses et al are different when treating the elderly, according to Prof. Goonaratne. That's why this long-time teacher (he was Professor and Head of Department of Physiology, Faculty of Medicine) who has guided many a medical student saw it fit to "introduce medical students, junior and senior doctors including Consultants and General Practitioners and other professionals in health care to some of the special problems of medicine in elderly people" through this book.
While the emphasis is on "leading clinical presentations such as incontinence, malnutrition, mental health problems, frailty and social disruption", the book deals with a gamut of topics from pathophysiology of ageing to prescribing to mental health problems to haematological problems to care of the elderly in general practice, written by eminent professors and medical doctors among whom are the two Editors as well.
To make it a "whole" and not piecemeal two non-medics, Attorney-at-Law Yasantha Kodagoda has contributed his input on legal issues and the prevention and resolution of disputes and Prof. Sunethra Atukorala on nutrition.
Referring to retirement, Prof. Goonaratne points out to the Sunday Times that in Australia many people are re-employed after formal retirement age.
Retirement age should be based on the lifespan, according to him, and the elderly should be allowed to work at least half-a-day, not only to get some money for their upkeep but also to ward off the loneliness, while making a contribution to development efforts.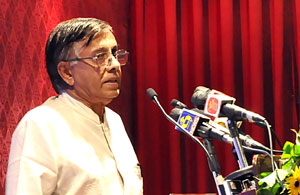 Prof. Goonaratne at the book launch at the Sri Lanka Medical Association. Pic by Mangala Weerasekera
Prof. Goonaratne should know what he is talking about because at 73, his room in the Physiology Department of the Colombo Medical Faculty is a hive of activity. The phone rings frequently and people walk in with many a query. Why should he, like many of his peers, with their mental faculties intact, maybe only with a few physical niggles be languishing at home?
While mulling over the ideal situation where social workers would visit the home which has an elderly family member, may be even to have a chat, and bring a little brightness to their lonely lives, Prof. Goonaratne and Dr. Balasuriya are not relaxing after a job well done.
Volume II, consisting of more major issues in the lives of the elderly as well as information on death, is in the pipeline.
When Prof. Goonaratne says that Volume II will come out in January or February, next year, just a few months away, there is message of hope for the elderly.......they are not alone. The larger signal is that Sri Lanka is not weary of its old.
The book
Medicine in the Elderly (Vol 1) Edited by Professor Colvin Goonaratna and Dr. Achala Balasuriya is available on week-days at the Sri Lanka Medical Association (Tel: 2693 324) and CMCC Office, Faculty of Medicine, Kynsey Road, Colombo 8 (Tel: 4612643). It is priced at Rs. 700 but students may buy it at Rs. 500.