I haven't watched that famous film. But I have judged a book by its cover or rather a cafe by its colour…
Barista Lavazza: I have hitherto not deigned to enter, possibly because I dislike orange signboards... But when I venture forth I'm blown away by Barista Blast, an explosion of coffee booming with sinister scoops of ice cream and Irish cream. Admittedly, the original is not quite my cup of tea. But Training Manager Shalinda Hewapathirana skilfully streamlines it. I guess, "You trained abroad?"
Indeed, Shalinda spent eight years with Costa Coffee. And it is he who innovated Barista Lavazza's new iced coffees. The "Indulgence" Range is cold, calculated deadly decadence. But sweet excess can be killed to order. Otherwise, criminally creamy Lavazza coffee and torpedoes of fudge liaise lethally with chunks of choco chip cookies to execute Barista Cookie Crunch and before you can dodge its dangers Rich Coffee Shake, racy like a Ferrari, runs you over with chilling intent. But Barista has launched more potent weapons still: "Drinkable Desserts!" Black Forest Blast comprises cake that converts into liquid lavishness- think thick, crumbly chocolate muffin, ice cream, cherry brandy, Irish cream and espresso crowned in whipped cream whilst Muffin Blast is blueberry muffin metamorphosed into a gulpable culpable caramelised crème brulé. If Hazelnut Frappe and Tiramisu Chill capture quintessentially Italian thrill then the French Connection comes with Monin sauces whilst Shalinda crosses exotic frontiers with extraordinary Rose Iced Latte. Coffee to rise and coffee to rose!
Standard concoctions can be stupidly sweet. However, young John at the Horton Place outlet explains, "Sri Lankans don't really like the taste of coffee. I think it's cultural: we are tea drinkers." So coffee has to be dissembled with swathes of ice cream, sauces, syrups and cream. Why order coffee then? Because it's fashionable?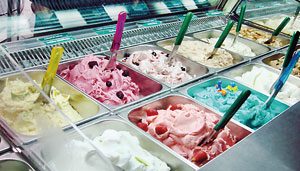 Il Gelato ice creams in many flavours
The new coffees excite. Yet, my favourite remains simple Iced Latte (customised syrup-free, shot with two espressos), Colombo's finest. As it slips down your throat the lingering sensation is of slipping into a silken gown. This drink showcases the sophistication of Barista Lavazza's exceptionally brewed exclusive House Blend (incorporating unusual Mysore Nugget Extra Bold and Kenyan pea berries). Incidentally, Lavazza is Europe's biggest coffee retailer and a century ago founder Luigi Lavazza created the art of blending coffee from different regions, inspired by grape-blending in wine.
Forget wine. Espresso is headier when the four Fab Factors convene: aroma, acidity, crema, body. And Shalinda delivers following the Italian mantra of the four Mighty Ms: La Macchina (Barista Lavazza uses La Cimbali), La Macinadosatore (grinder), La Miscela (blend of coffee) and La Mano (expert hands). Well, a cup of coffee isn't a piece of cake....
So what makes Lavazza coffee so addictive? The four Huge H's: Hundred percent Arabica, Hand-picked, High-grown in Havens shaded from blazing heavens. This "shade-grown" coffee furnishes low yields of premium quality. Here's one shady business we don't find suspect!
Il Gelato: Completes a decade of decadence next year! As a prelude to celebrations, they launched frozen yoghurt (not to be confused with the indescribably refreshing yogurt ice cream). On offer presently is but classic frozen yoghurt, but how they dress it up with twelve cool costumes. Imagine pristine white yogurt presiding like a snow-carpeted mountain wrapped in a swirl of sauces like blueberry, black cherry, caramel or sequined with sultanas, cashews, hazelnuts, chocolate curls.... I prefer the fat-free Italian avatar of fabled English strawberries & cream: frozen yoghurt in a blush of lush fresh strawberries. Fruits of the forest or quirky kiwi provide alternative sundaes, when available. However, Copa St Moritz (frozen yoghurt mottled with muesli) makes for a breakfast marvel (again, when the muesli is available).
If you didn't know, Il Gelato Café opened a year ago and they just acquired a new lady chef Gillian Smith with experience in Holland, Belgium and Tunisia. Her offerings are yet select but include lasagne, cold pastas, sandwiches and home-baked Lavazza coffee cake. Il Gelato also serves authentic Italian iced coffees made to Lavazza's own recipes including overwhelming Amore (coffee, chocolate ice cream, chocolate fudge sauce), vanilla Fransisca and minty Zotto Zero. What you probably knew and I didn't is the excellence of Il Gelato gelati. I spend much time in Italy and have never been inclined to try Italian ice cream in Colombo- ... But Il Gelato's Italian CEO Beppe Roccice ensures the Italian implementing base ingredients are dispatched from Italy from where he also sources black cherries, hazelnuts etc.
Better still, Il Gelato caters to local requirements. No, not with inundations of sugar (Colombo's capacity for consuming sugar leaves one staggered) but with gelati sans egg or gelatine (respecting religious restrictions). Consequently, gelati here isn't heavy, sticky and eggy as sometimes in Italy (particularly southwards). Certainly, it is not too arduous to burrow through four of their twenty-four flavours of ice creams in succession... A sundae incorporates three ice creams and the temptation is to be wild and whacky. But you will find that tameness is more tasteful.
Affogato al Cafe is the classiest, a concoction of Lavazza espresso and "cream flavoured" ice cream (stick to vanilla, which is the traditional Italian composition) buttoned up in superb Italian chocolate-coated coffee beans. Vanilla ice cream often repels me, like the colour orange, but Il Gelato's is good and quite lovely in Mr. Beppe's favourite Paciugo (black cherry sundae). Nevertheless, I'm partial to black cherry amerina ice cream. The seriously indulgent try chocolate sundaes sumptuous with homemade chocolate fudge sauce. But I always recommend unadorned ice cream (as I do unadorned coffee). Chocolate, Strawberry and Coffee are outstanding but gorgeously green pistachio, almond and hazelnut (a tad sweet) drive you nuts. Biscotti beckons and Amaretto amazes. Italian desserts like Fondente Dark Chocolate (an extravaganza of 75% pure chocolate), Tiramisu and Panacotta laze in creamed sweet splendour. Choices, choices. Sigh...
Pascucci: Baristas were exported to Italy for training, ingredients were imported. But they forgot to stock an ingredient integral to the hospitality industry: hospitality, instead we encounter we-have-arrived presumption. Nevertheless, Barista Affan delights. He reveals the challenges of franchise piccolo portions for "Sri Lankans want everything big. Even if they can't finish it, they want BIG."
Ambitious prices don't appeal, especially when courtesy counts as an extra topping. Their Arabica-Robusta blend is acerbic and iced coffees inordinately sweet. However, Amaretti Sorbetto bejewelled in mini amaretti impresses. Fraspuccio Meringato (espresso, confuso, chocolate, meringue) and Africa Nera (coffeed ice cream) do interest. Yet, a menu in Italian doesn't justify Milanese snottiness, particularly when interiors are hardly eye-catching.
The writer is a freelance travel writer who has contributed to international magazines and newspapers including Tatler, Conde Nast Traveller, Harper's Bazaar, Wallpaper, Elle, The Telegraph, The Evening Standard and The Independent.