The John Keells Hotels Group, the largest chain of hotels in Sri Lanka, celebrated World Tourism Day on September 27 in style, unveiling two "very unique and iconic properties", the Chaaya Tranz, Hikkaduwa and Chaaya Wild, Yala at the Cinnamon Grand.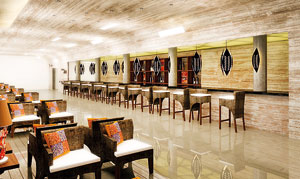 Trendsetting bar at Chaaya Tranz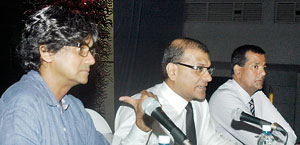 At the unveiling: Architect Channa Daswatte (Left), Deputy Chairman JKH and Sector head Jayantissa Kehelpannala addressing the media. Pic by Saman Kariyawasam
In keeping with their mission of becoming "the trendsetter in the hospitality industry in Sri Lanka", John Keells has transformed two existing hotels into unique designs reflective of their backgrounds, emphasising the natural beauty of their settings.
The Coral Gardens, originally designed by Geoffrey Bawa, has been transformed at a cost of Rs. 1.2 Billion by architect Channa Daswatte, into a brand new design "to face the 21st century," said Deputy Chairman and President of the Leisure group of John Keells Holdings, Ajit Gunewardene.
"This has always been a family location and we want that element to remain," said Sector Head Sri Lankan Resorts of the John Keells Hotels Group Jayantissa Kehelpannala. The design is an attempt to create an "arty, edgy contemporary style and design that's reflective of the fun, sun and sand that Hikka is renowned for," he added.
In a Rs. 500 million investment, the Yala Village has been transformed by Channa Daswatte into a "world class game lodge". To be opened in November 2011, these two hotels will diversify the tourists' experience of Sri Lanka and "contribute towards the national vision in developing tourism, to meet its goal of attracting 2.5 million tourists by year 2016," said Mr. Kehelpannala.