"I thought of making a product for the common cold," says Dr. Devapriya Nugawela. "A team of Veda Mahattayas were involved in developing the formula, together with our research scientists. Launched in 1995, Samahan is now the No. 1 herbal product," he says with pride.
In a six-acre complex, in the countryside of Dompe, a wide range of natural herbal products are manufactured scientifically using modern technology and equipment. It is a blending of the age-old traditional knowledge of Ayurveda, with modern scientific research. Experienced Ayurveda practitioners consult with scientists to work out the formulation and processing of these products.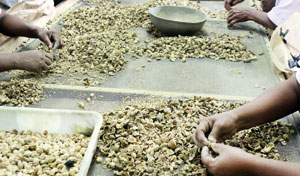 The start of a long process: Manual sorting and grading of spices
Link Natural Products is a leader in the manufacture and export of herbal health care and personal care products, while also producing and exporting essential oils. Recalling their early beginnings, Dr. Nugawela, Chairman and Managing Director of Link Natural Products said the company was established in 1982 with funding from his friends, the late Siripala Jayasinghe and W.M.M. Jayawardene, both co-founders of the Link Group of Companies.
He first started manufacturing essential oils from indigenous aromatic plants found in the country. "I took a sample of nutmeg oil to Bush Boake & Allen a large importer of essential oils," Dr. Nugawala says, recalling how disappointed he was when the buyer said he already had other suppliers.
However, at an international congress in 1983, Dr. Nugawela met a German buyer who showed interest in the product and came to Colombo. "I showed him the zinc-roofed shed where the oils were being extracted. He bought the entire stock. We also found more buyers through him and then orders started coming in."
Dr. Nugawela said the company went in for the manufacture of Ayurvedic pharmaceuticals, when he met a 'Veda Mahattaya' who complained about the non-availability of Ayurvedic medicines in the market. The Veda Mahattaya came to the factory and demonstrated the preparation of a popular herbal concoction, using his own utensils. When the vessel was opened after fermenting for 21 days, there were worms in it. "We found that the vessel had not been washed after use. Thereafter, we sterilized a new vessel, made the mixture and kept it for 21 days. The mixture was clean with no worms. We realized that we had to research on scientific methods of preparing Ayurvedic medicines," he says. Thus in 1984, Link started developing their own products, based on Ayurveda and the indigenous medical system of Sri Lanka.
Every Monday afternoon, a team of six to seven Ayurvedic practitioners comes to the factory and discuses products and processing with the scientists on the staff and a team of consultants, including Dr. R.O.B. Wijesekera, Prof. Tuley de Silva, Prof. Colvin Gooneratne and Prof. Ajit Abeysekera. A regular forum on new product development is held.
The products are categorized as generic Ayurveda pharmaceuticals, herbal health care products, personal care products, branded Ayurveda-based products and aromatherapy products, in addition to essential oils. "Today, Link is the leading producer and distributor in the country of over 200 plant-derived, health-related products, developed by them," says Dr. R.O.B. Wijesekera, Consultant /Director of Link.
In the Samahan building, a large consignment of Samahan was being packed for export to India. Exported to several countries including, USA, Canada, Russia, France, Malaysia, Germany, it is the company's flagship product. Fourteen herbal ingredients are blended, crushed and dried to make Samahan. The packaging varies according to the buyer. "It is a purely indigenous product, an instant cure for the common cold and influenza. It is totally herbal and the result of uniquely Sri Lankan scientific and technological innovation," Dr. Wijesekera says.
Their toothpaste, Sudantha, manufactured in another section was recently the subject of clinical tests along with Samahan among staff of a garment factory. The results have been favourable. The results of the Sudantha tests have already been published in the Ceylon Medical Journal and the results on Samahan are due to be published soon.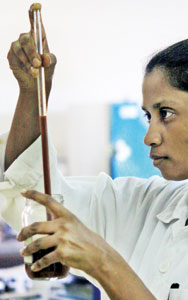 Indigenous methods getting a scientific touch. Pix by M.A. Pushpa Kumara
Over the years the company has developed an active and vibrant research and development facility and capability in quality control and assessment, says Dr. Wijesekera, pointing out that it includes Ayurvedic practitioners and more than a dozen fully-fledged scientists with qualifications in various fields. This facility is equipped with modern analytical instrumental facilities. It also has access to consultants who have expertise in medicinal and aromatic plants and their processing. "Link was the first herbal production company to establish a dedicated authentic R & D facility in Sri Lanka," he says.
Spices, such as nutmeg, cloves and black pepper are bought from producers by collectors. All herbal ingredients that come in are unloaded in a quarantine store and tested for contamination before they are sent to the main store. The materials are categorized as accepted, rework or rejected. The sorting is done manually which is a costly process, explains Factory Manager Tharanga Perera.
At the back of the complex is a medicinal plant nursery. There is also a two acre plot grown with medicinal plants and herbs nearby. To obtain their requirements of genuine raw materials, the company has initiated a process of outsourcing propagation to farmers, providing them with the authentic seedlings together with knowledge and training to cultivate quality produce. They also give them a buy-back guarantee for their products. "We supply plants to growers in places like Puttalam, Buttala and Polonnaruwa, as well as to herbal gardens, Tharanga says. The company has a division for developing Agronomy of medicinal plants, with the cooperation of the agriculture faculties of certain universities. Endangered or rare plant species are conserved by propagating them and also engaging rural farmers in the cultivation.
Ayurvedic 'guli' and 'choorna' are manufactured by blending various ingredients into a paste in a mixture, extruding them into strips and then small spherical shapes through two machines, and hardening them in a coating pan with hot air. They are sorted manually by girls who remove the small and broken pieces, and pack the rest in aluminium pouches.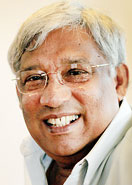 Dr. Devapriya Nugawela
In the R& D Department, about 12 qualified scientists of different disciplines and fields are engaged in quality assurance and product development. Manager R & D, Samantha Tennekoon says quality has to be checked in three stages, the incoming raw material, during manufacture and the final product.
New product development and improvement of existing products is carried out by the R & D department and research on a new product takes about four to five years Samantha says, as it goes through several stages of approval - design development, Ayurvedic, and technical committees, from the product concept to the production.
The company recently launched 'Earth Essences', a range of herbal cosmetics including products for bath, skin, hair, face, foot and hand, spa and aromatherapy, even anti- wrinkle cream and anti- stretch mark cream. An outlet for the Earth Essences range of products is being opened in Colombo in November this year.
With an array of Presidential Export Award for various categories over the last five years, as well as awards from the Export Development Board and Environmental awards, their success story has been amply proved by the growing exports to over 32 countries.