John Keells Foundation (JKF) - the Corporate Responsibility arm of John Keells Holdings PLC, recently joined hands with HelpAge Sri Lanka and US-based So Others May See Inc. (SOMS) to conduct an eye camp at the Medical Officer of Health (MOH) Office of Pdavi-Parakramapura in Padaviya.
Dr. Palitha Bandara, the Regional Director of Health, Anuradhapura, had identified this area as one with minimal access to eye care services due to its remoteness and being part of the former `conflict zone'.
JKF said the eye camp that was held last month comprised a cataract clinic operated in collaboration with HelpAge Sri Lanka and a spectacles clinic conducted in collaboration with SOMS and was patronized by over 460 persons, most of whom do not have easy access to eye care services.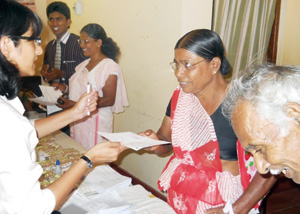 Picture shows - Two JKF volunteers assisting Ashanthi Mathai of SOMS
Of these, 54 persons who were diagnosed with cataract by the HelpAge medical team will undergo surgery at the Anuradhapura Teaching Hospital, under the sponsorship of JKF. Meanwhile, SOMS distributed 407 pairs of eyeglasses sponsored by JKF at the spectacles clinic conducted at the same premises. While the reading bifocals were presented on spot, distribution of the custom-made eyeglasses will be followed up by SOMS in mid September. Dr. Nuwan Hettiarachchi, Lecturer attached to the Faculty of Medical Science of the Rajarata University of Sri Lanka and Medical Officer of the Anuradhapura General Hospital, was in attendance at the cataract clinic.
Another 286 pairs of eyeglasses funded by JKF were distributed by SOMS at a separate eye clinic conducted in Padavi-Sripura on the same day. This camp was attended by 311 persons of whom 35 were diagnosed to have cataract while 286 were issued with eyeglasses. The program was held in two locations – namely, the MOH offices in Padaviya on the Anurdhapura District border and Padavi-Sripura on the Trincomalee District border to best facilitate access from as many villages in the area as possible, JKF said.
JKF was represented at the eye camp by 12 employee volunteers from the John Keells Group. "This was the first time I was part of an Eye Camp", said Mayumi Brohier, a volunteer from the John Keells Group Company Mack Air Limited (Jet Airways). "I felt proud to be a part of an organization that takes an initiative to look after the needy in some of the most remote areas of the island. It's also a great opportunity to meet colleagues from other Business Units and work together for a worthy cause," she said.
Ashanthi M. Mathai, Founder and President of SOMS said, "Working with the Vision Secretariat in the Ministry of Health, we have identified regions which have not had formal vision programs to date and we are trying to reach and serve these areas.
The Anuradhapura and Trincomalee districts are two such regions and we are happy to have had the opportunity to conduct this program with HelpAge with generous sponsorship from JKF."