Ceylon Oxygen Ltd, a member of The Linde Group, has been awarded the exclusive rights to supply industrial gases to the Kankesanthurai harbour (KKS) salvage project being undertaken by Resolve Marine Salvage and Fire Asia Pte Ltd, a subsidiary of Resolve Marine Group Inc, USA, the company announced.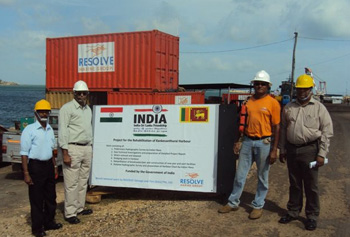 Picture shows from left - Ubayananda Hettiarchchi (Manager Industrial – Ceylon Oxygen Ltd); Niran Pieris (CEO - Ceylon Oxygen Ltd); Captain Anuj Sahai (MD – Resolve Salvage & Fire Asia); and Gamini Mayadunne (Sales Executive – Ceylon Oxygen Ltd).
The salvage project, which forms the first part of the larger Kankesanthurai port development project, aims to remove six vessel wrecks that were sunk in Kankesanthurai harbour located at the northern tip of Sri Lanka between 1994 and 1996 during the LTTE conflict.
As part of an agreement between the Governments of Sri Lanka and India, the Indian government is funding the KKS salvage project and has contracted Resolve Marine Salvage and Fire Asia for the wreck removal work. Once the wrecks are removed, the port will be developed for commercial operations, the statement said.
Niran Pieris, Chief Executive Officer of Ceylon Oxygen Ltd, said "With the additional capacity from our new plant which is expected to come onstream in September next year, Ceylon Oxygen will be well-positioned to meet future gases demand and new market opportunities associated with the Kankasanthurai port development."
Ceylon Oxygen, which celebrates its 75th anniversary in Sri Lanka this year, is the largest producer of industrial gases in Sri Lanka.