The Outstanding Young Persons (TOYP) of Sri Lanka recently presented the award for Environmental Leadership to Subramaniam Eassuwaren, Managing Director of the Carbon Consulting Company [CCC], whose aim is to offer a complete end-to-end service for companies that are committed to reducing their carbon emissions.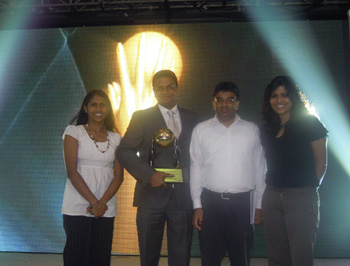 Subramaniam Eassuwaren with his team
A statement from his office said, Mr Eassuwaren, also Deputy Chairman of Eswaran Brothers Exports, under the guidance of top climate change expert Professor Mohan Munasinghe and eminent conservationist Dr Ranil Senanayake has made a difference to Sri Lanka's corporate world and the way they view the environment.
In his acceptance speech, Mr Eassuwaren who is a Certified Carbon Footprinting Expert, raised many ethical issues which are often overlooked if not ignored by most corporates, not just locally but internationally. "Is profit the only factor in business?
Is my bottom line the only area to focus on? When we started documenting the values and principles that my late grandfather V.T.V Deivanayagampillai lived by, these were amongst the questions we had to ask ourselves. How was our 67 year-old family business affecting the environment? How were we affecting the community around us? We didn't know, and that's how this journey started. We started asking ourselves what should we do as responsible citizens to preserve the world and our environment for future generations?"
The Carbon Consulting Company ( CCC ) has been created with the purpose of helping organizations reduce their environmental impact and maximize the CSR and marketing opportunities arising from these efforts.