Consultants 21 (Publications) Ltd this week launched its own Online Books Store on www.consultants21.com/publications to globally market the series of books on corruption, fraud, economic crime, public finance, governance and the rule of law, authored by Nihal Sri Ameresekere, FCA, FCMA, CMA, CFE, published by US Publisher, AuthorHOUSE.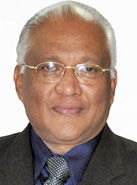 Nihal Sri Ameresekere
These books are being released at a time when there are economic debacles, not only in the corporate world, but also in national economies in several countries. The public furore against corruption has engulfed neighbouring India, taking centre stage in national affairs, the company said in a statement.
The latest book released is on the global cancerous menace of corruption which has been reviewed as an invaluable book dealing with United Nations Convention Against Corruption (UNCAC), in force from December 2005, including its evolution, and related UN Convention Against Transnational Organize Crime.
UNCAC – is an international legal instrument dealing with combating fraud, corruption and economic crime in public and private sectors, including political leaders and lackeys. Mr Ameresekera deals with the formation of the International Association of Anti-Corruption Authorities (IAACA), in Beijing in October 2006, with inaugural Address by Chinese President, Hu Jintao. IAACA promotes and facilitates implementation globally of UNCAC, supported by United Nations Office on Drugs & Crime (UNODC).
He says that fraud and corruption, as endorsed by international research, is a major issue confronting people, and talks of how political leaders stride to power exploiting their anguish by committing to combat fraud and corruption, and once in power get bogged down in the very quagmire of fraud and corruption, peddled by their lackeys financing them.
Disclosing real instances, he demonstrates how countries, having ratified UNCAC, are not honouring its obligations, but blatantly violating with impunity its obligations; and highlights the dire need for international endeavour to deal with political leaders, pillaging and plundering the resources of people, plunging them into abject poverty, as crimes against humanity.
He reveals how World Bank and international agencies pontificate on combating fraud and corruption, but continue to fraternize with fraudulent and corrupt miscreants.