Danny Roden, President Chevron Lubricants, who visited Sri Lanka last week – in his first-ever visit - along with Farrukh Saeed, Vice President Lubricants Asia Pacific region has said he was impressed with Sri Lanka's (post-war) growth.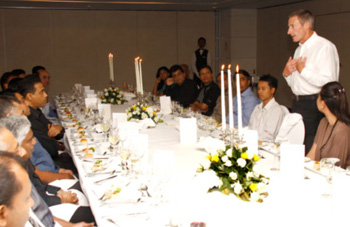 Danny Roden with local staff
The company said in a statement that Mr Roden was here to review Chevron's Sri Lanka's operation and meet up with the key stakeholders of the business.
"The first visit by the global head was a significant milestone for us all which was only possible due to the peaceful operating environment prevailing in the country and consequent growth opportunities for the investors," noted Kishu Gomes, CEO of Chevron Lubricants Sri Lanka operation, in the statement.
Mr Roden was quoted as saying that, "I had heard what a wonderful country Sri Lanka was, and had been told what a great operation we had.
My visit far exceeded my high expectations, in two days, I was able to meet all our Chevron employees and many of our customers, and even had the privilege to meet President Mahinda Rajapaksa." He said Chevron is committed to strengthening its business in Sri Lanka, and continuing its involvement in the ongoing development of the country.